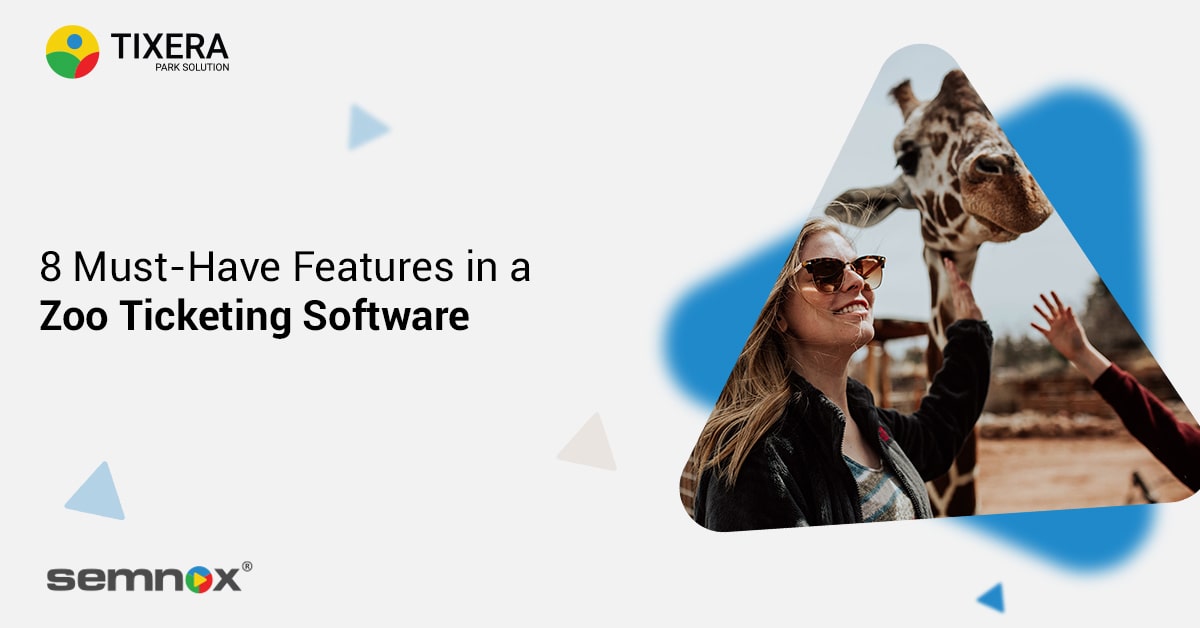 8 Must-Have Features in a Zoo Ticketing Software
8 Must-Have Features in a Zoo Ticketing Software
Both children and adults alike love visiting the zoo! So it goes without saying that your zoo ticketing software needs to be as versatile as your target audience. It should be able to cater to the preferences and expectations of your guests while being simple enough to manage at the same time!
In this blog, we are going to explore the 8 must-have features to look for in a modern zoo ticketing solution. Whether you are opening a new zoo or looking to upgrade your existing zoo software, this blog will help you make an informed decision. Let's explore! 
1: Cashless Management
Why bother with the hassle of dealing with cash when you can go cashless? This is the first and most essential feature to look for in your zoo entry software — because it can help you create a seamless and contactless experience for your guests! 
Cashless management is possible by smartcards or wristbands built on RFID, Barcode, or QR Code-based technology. Guests will be able to use a single card or band to enter your venue and make payments for food and beverage items or merchandise, without taking out their wallets. 
2: Capacity Management
The post-pandemic world makes this feature a must-have. When you sell tickets through multiple channels — including online on your own website, through Online Ticketing Aggregators (OTAs), at the ticketing counter (Point-of-Sale), and self-service kiosks, it's important to be able to get a real-time overview of the available capacity of the zoo to ensure that there is no overcrowding. 
3: OTA-Integrated Online Ticketing
Speaking of the post-pandemic world, guests are increasingly making purchases online rather than doing them in person. A comprehensive online ticketing module that enables quick and secure purchases is an essential feature to look for in your zoo software. 
To help further expand your reach, the module should be able to integrate with leading Online Ticketing Aggregators like Viator and Expedia. This integration should also be real-time — bookings made on the OTA should reflect within your zoo ticketing software immediately. 
4: Counter Ticketing (POS)
A reliable point-of-sale is an important part of your zoo ticketing system. You don't just need reliable POS software, you also need robust hardware. The user interface of your zoo POS software should be intuitive and easy to navigate, so that your staff can use it with minimal training and they can process transactions quickly, preventing queues from building up. 
5: Self-Service Kiosks
Of all the self-service technologies available today, self-service kiosks like Tixera Klassic and Tixera Komplete are very popular. They remove the need for staff, allowing guests to buy tickets and make purchases on their own with ease! 
6: Access Control
You can choose from 3 of the most popular types of access gates for zoos — tripod turnstiles, flap barriers, and swing gates. These access gates can be mounted with readers like the Tixera XCESS Reader that can validate guest cards or wristbands with RFID, Barcode, or QR Code, and allow them access without any manual intervention. 
7: Dynamic Pricing & Queuing Solutions
While this isn't a must-have feature per se, it's one that would add immense value and help boost margins further! Dynamic pricing takes into account multiple factors like the weather, past bookings patterns, the number of tickets currently sold, etc., and creates pricing options that keep changing — much like airline ticket prices! 
8: Membership Management
For guests who would like to keep visiting your zoo, it would be great to give them the option to buy a membership! This allows them to save money by paying a lower cumulative price for the ticket and it also brings in a steady source of revenue for your zoo! You can also look for the option to set up recurring payments so that your guests can renew their memberships automatically. 
The Complete Zoo Ticketing Solution
So there you have it — the 8 features to look for in a zoo ticketing solution that will ensure a seamless experience for your guests across all age groups! 
Would you like to learn more about a zoo ticketing software that comes with all the 8 features listed above and much more? Then Tixera is the answer! Get this holistic solution for you to manage all operational aspects of your zoo — from ticketing to maintenance to reporting — easily from one place! 
"The Tixera System has been reliable in allowing us to manage all transactions and in generating reports for our tenants inside the premises, as well as our accounting team," says Erwin Wijaya, Partner at Lembang Park and Zoo.
Reach out to our representatives — email us at sales@semnox.com or call us!