Semnox Granted US Patent for Radian Smart Wristband
Semnox Granted US Patent for Radian Smart Wristband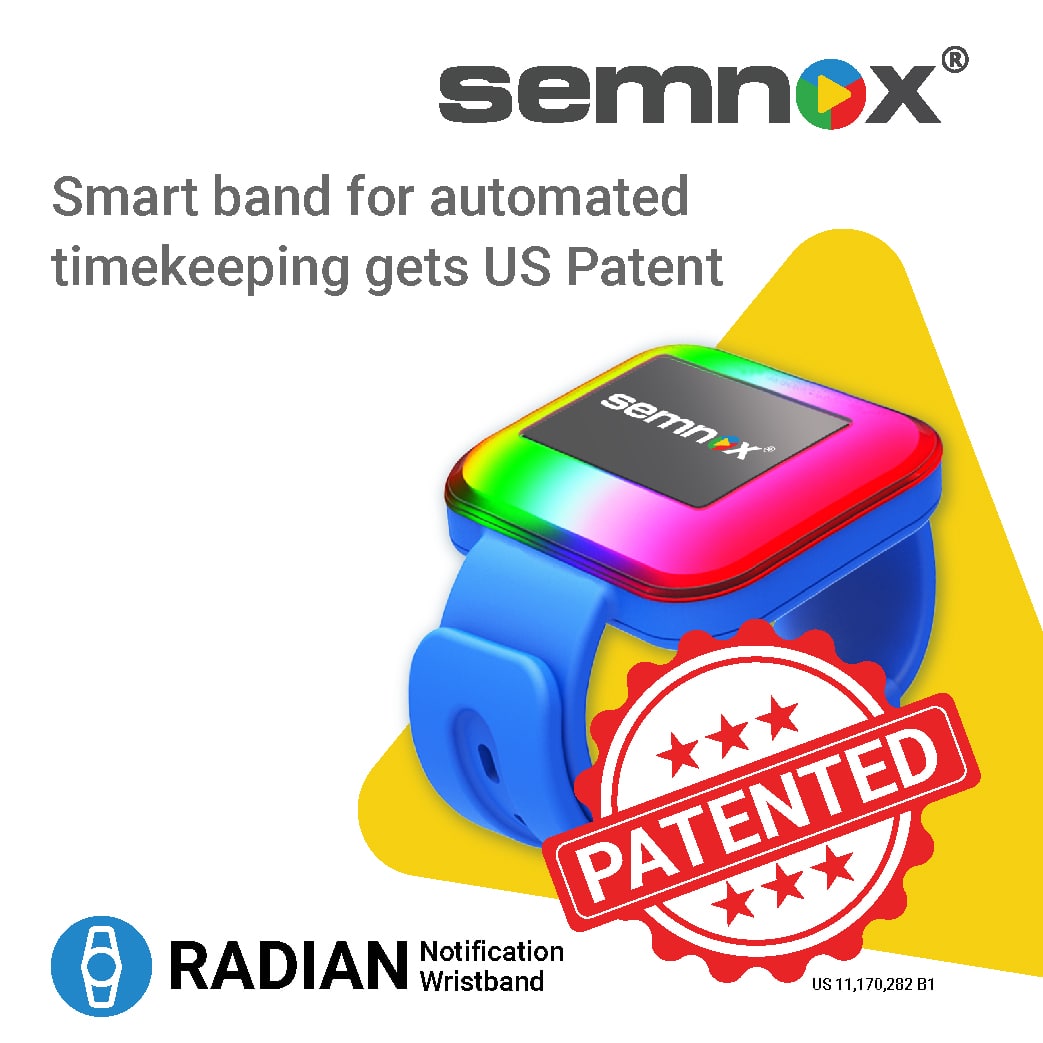 Semnox Solutions announced today that its newest wearable technology, Radian Smart Wristband has been awarded a US patent for its feature-rich and ingenuous innovation. The Radian wristband is a game changer for the entertainment industry with its remarkable functionality and easy-to-implement features.
The Radian Wristband is an RFID enabled, rechargeable device which can alert the wearer with system-controlled time-based events through dynamic light patterns, haptic touch/vibration, and sound. The potential for this new solution is huge. Some initial implementation examples include notifying guests and staff at the Trampoline Parks, Soft Play Areas, Laser Tags, Skating Rinks etc. about status of player activity time, notifying patrons at the restaurant when the food is ready to pickup or notifying party guests when it is time to cut the cake!
Semnox will be at the IAAPA Expo Trade Show at Orlando (November 16th to 19th 2021). Join us to see the Radian Wristband in action!
About Semnox:
Semnox provides state-of-the-art RFID-based cashless and ticketing solutions for Family Theme/ Adventure Parks, Water Parks, Family Entertainment Centers (FECs)/ Arcades, Food Courts/ Restaurants, Health Clubs, Gyms, Activity Play Areas, Museums, Zoo & more.
Parafait FEC Solution
Semnox's FEC and cashless offerings include Wireless debit cards and readers, POS, Inventory and Redemption, Waivers, Self Service Kiosks, Party Booking, Lockers, Food & Beverage Sales, Customer App, Digital Signage and more.
Tixera Park Solution
Semnox's Park offering includes Reservation and ticketing, OTA Integrations, Queue-free solutions, Access controls, lockers, POS, Self-service kiosks, Inventory and Redemption, Food & Beverage Sales and more!