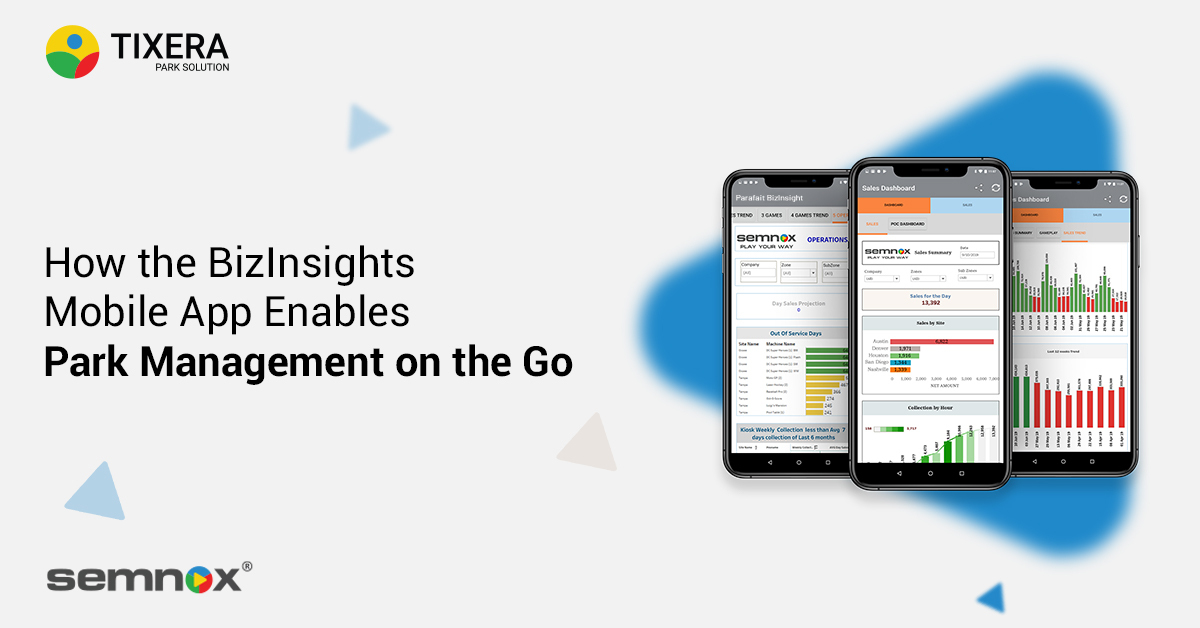 How the BizInsights Mobile App Enables Park Management On The Go
How the BizInsights Mobile App Enables Park Management On The Go
As a business owner, you need to stay on top of things happening at your venue. But you may always be on the move. There's barely time to sit and sort through piles of spreadsheets and data. But you're probably stuck doing that anyway! 
Don't you wish the key metrics were available at your fingertips in an easy-to-process format? Don't you wish you could make decisions faster and have more time to just sit back and relax? 
That's exactly what the Tixera BizInsights mobile dashboard app for park management can help you do! You can now manage your venue on the go, making quick decisions by leveraging visualized data presented to you in an easy-to-understand format on the app! Let's explore how it works. 
Vibrant Visualizations Enable Quick Decision Making
The human brain processes visual information 60,000 times faster than text. That's why the BizInsights mobile dashboard transforms numbers into interactive pie charts, bar graphs, trend lines, and more. And it does this by leveraging Tableau — the world's leading visual analytics platform — giving you a distinct edge in decision making! 
The Sales Dashboard will tell you what purchases your guests are making, allowing you to make better purchasing decisions. The Operations Dashboard will show you which rides are offline and for how long. You can also see online bookings metrics, allowing you to plan the staffing and F&B inventory for the day on the go. And you can check the hour-wise footfall at the park, giving you an idea of the total footfall you can expect on any given day. 
When information like this is available at your fingertips, streamlining your business and optimizing operations becomes a walk in the park! 
Always One Step Ahead of Potential Problems
As a business operator, you want to keep your eye on the bigger picture and not get caught up in solving minor problems at your venue. By helping you spot trends and identify potential problems before they occur, BizInsights helps you stay one step ahead, always. 
Using the 'drill-down' feature of the app allows you to parse the data on a daily, weekly, and monthly basis. Even if you are on the other side of the world, you can now just take your phone out of your pocket and get a real-time overview of the essential metrics related to footfall, sales, ride trends, and more! 
The Essential Park Management Mobile App
BizInsights already has multiple pre-built metrics that are ready to view immediately! But we understand that every park is different — which is why our team can create custom dashboards that are relevant to your business so that you can get the actionable insights that you need.
The Tixera R&D team is also working towards integrating Predictive Analytics into the app in the coming years, exponentially increasing the power and utility of BizInsights for business owners like you! 
You get to leverage the power of this app along with the comprehensive Tixera amusement park management system. To help you and your business partners stay on top of things at all times, you can purchase multiple licenses for the app, with separate login credentials for each license.
Speak to our representatives today to learn more about how the Tixera BizInsights app can transform the way you run your business — email us at sales@semnox.com or call us now!