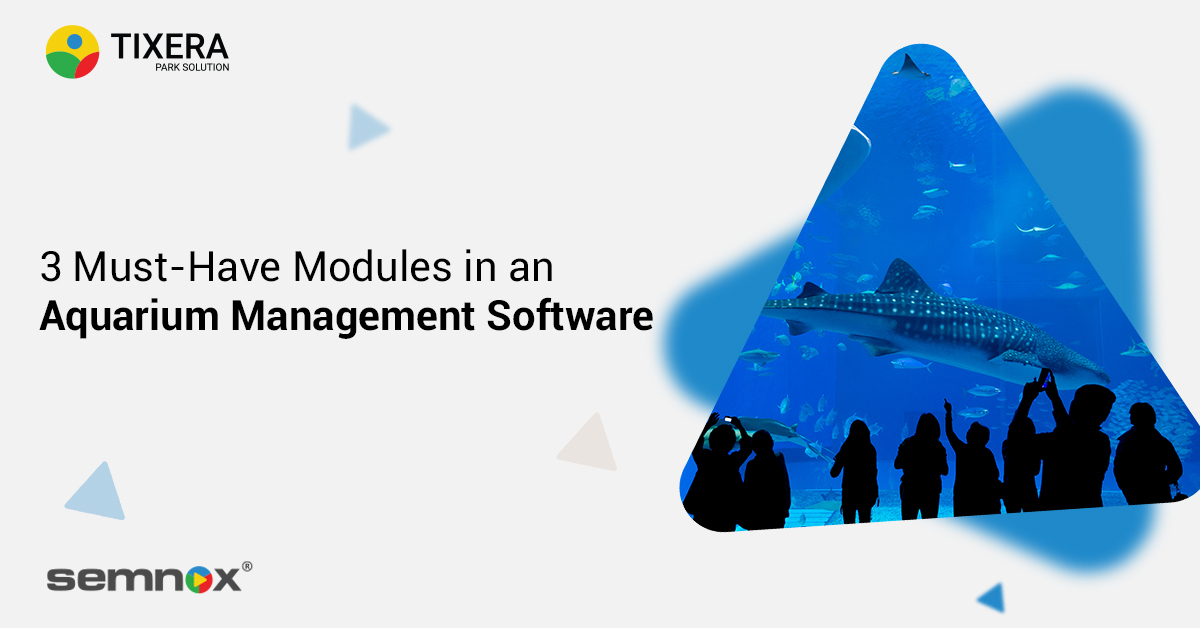 3 Must-Have Modules in an Aquarium Management Software
3 Must-Have Modules in an Aquarium Management Software
While guests are admiring the exotic sea creatures in your aquarium, the software managing all aspects of your venue in the background is what can make or break the guest experience! Therefore, it's essential that you pick your aquarium management software with as much due diligence as you would put into selecting the aquatic animals on display at your venue.
In this blog, we are going to look at 3 must-have aquarium management software modules — integrated ticketing, point-of-sale, and maintenance management. You will gain an understanding of the essential features of these modules, helping you make an informed decision. Let's dive in!
1: Online Ticketing Software for Aquariums
To help you reach guests anytime, anywhere and on any device, you need to have an integrated ticketing software for aquariums. This can be plugged into your website allowing you to expand your reach and sell tickets online. This module should be integrated with your onsite POS counter and self-service kiosks so that you get a real-time overview of sales and can plan better capacity management. Here are the features to look for in an integrated ticketing software for aquariums:
Onsite POS Integration

: Your ticketing system must support multi-channel sales as one central solution. All sales channels need to be connected to each other to help cut down the manual effort, reduce errors, and facilitate the guest experience by solving problems like overbooking. The venue gets one unified integrated system with a single view into all the channels.

OTA Integration

: Online Ticketing Aggregators like Viator can help greatly expand your reach online. It helps if your ticketing software has a built-in OTA integration.

Secure Payments

: The system should be able to handle secure payments through Credit/Debit Card and PayPal. It also helps if you can integrate third-party payment gateway or e-wallets.

Intuitive Interface

: Guests need to be able to make purchases quickly on any device of their choice — and a clean, intuitive interface enables this.

Configurable Combos

: The ticketing software should allow operators to create combos with tickets, food, beverage, or merchandise options, offering maximum value-for-money to guests.
If your guests have not purchased tickets online, they will probably do so at the Point-of-Sale counter at your venue. So that's what we will look at next.
2: Point-of-Sale Software for Aquariums
You need a Point-of-Sale Software for Aquariums that cashiers can use to quickly process transactions and keep the queues to a minimum. A good POS system is a seamless blend of hardware and software that does its job well. Here are some of the features to keep an eye out for:
Integrated Hardware:

The POS system should integrate seamlessly with cash drawers, receipt printers, pole displays, card readers, barcode readers, and QR code readers.

Modern Interface

: This is the most important aspect of your POS software for aquariums. A modern interface with simple navigation across all screens allows cashiers to do their job well without straining their eyes. And when the interface is intuitive, they can start using it with minimal training.

Staff Management

: The POS software for aquariums needs to support shift-based login and HR controls for staff efficiency. It also needs to record employee sales summaries

Centralized Management

: You should be able to manage all your Points-of-Sale from a central location. The system should give you a clear picture of what your guests are purchasing, and allow you to create discount packages and promotions that delight them!
When your aquarium POS does all of the above, it's easy for you to craft a seamless experience for guests across your venue!
And that leaves us with the 3rd critical module in your aquarium management software — a maintenance module.
3: Comprehensive Aquarium Maintenance Software
The health and well-being of the aquatic life in your aquarium depend entirely on how well the aquarium is maintained. And this is possible when you have comprehensive aquarium maintenance software. The software should be able to track repair and upkeep activities, schedule maintenance tasks, and log-in completion updates. Here are some of the features that the software needs:
Task Setup & Assignment

: The software must support the creation of a maintenance task schedule for an asset group or a single asset. Operators should be able to assign these tasks to specific technicians and also create ad-hoc tasks as needed.

Track Tasks & Follow-Up

: The maintenance module should be able to track tasks to closure and have the option to create follow-up requests.

Detailed Reporting

: The module should be able to generate detailed reports on the status of maintenance or repair work.

Tablet for Technicians:

Maintenance operators are always on the move. So it helps if the module is available as a tablet-based app so that they can make entries wherever they are.
A comprehensive maintenance module will allow you to comply with safety regulations and ensure a safe experience for guests at your venue. It will help ease the burden on staff, prolong the life of your assets, and help the aquatic life in your aquarium flourish!
Tixera — The Ultimate Aquarium Management Software
Tixera by Semnox is a comprehensive aquarium management software with integrated ticketing, point-of-sale, maintenance management, and much more!
"We were scouting for solution providers for our aquarium and decided Semnox would fit the bill as they have a wide presence in the domestic and international arena," says VGP Premdas, Owner of VGP Chennai. "We had several rounds of brainstorming with Semnox's team to come up with an apt solution for our aquarium also keeping in mind future expansions like the amusement park and water park. The installation process was handled by the Semnox team in close association with our operations team. The aquarium software is robust with a number of reports and the Semnox team is flexible when it comes to services."
If you are looking to upgrade your existing aquarium software or in the process of setting up an aquarium, reach out to us — email us at sales@semnox.com or call us right away!