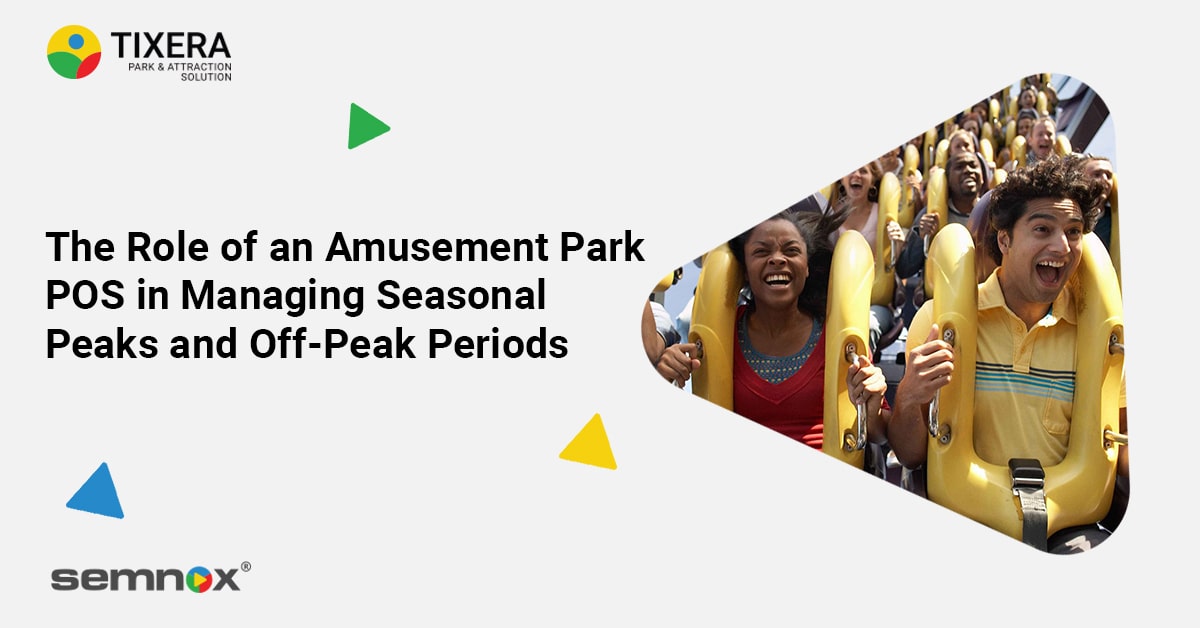 The Role of an Amusement Park POS in Managing Seasonal Peaks and Off-Peak Periods
The Role of an Amusement Park POS in Managing Seasonal Peaks and Off-Peak Periods
Amusement parks are a vibrant hub of entertainment, attracting thrill-seekers and families alike. From bustling summer weekends to quieter off-peak periods, the challenge lies in effectively managing operations, optimizing revenue, and ensuring exceptional guest experiences. Semnox's Tixera Park Solutions' Point of Sale (POS) system plays a pivot role in tackling the ebb and flow of visitor traffic. Let's explore how Semnox Tixera Park Solutions empowers amusement parks to navigate both seasonal peaks and off-peak periods with ease.
"Semnox is a user-friendly solution that has a strong industry presence and offers products that cater to both businesses and guests. We are so pleased with Semnox and have achieved our goals with their help." said Ms. Diana Baguma, the owner of Aqua World Waterpark.
Efficient Queue Management
During peak seasons, long lines and wait times can test even the most patient guests. With the Tixera's amusement park POS, amusement parks can implement virtual queue solutions to minimize guest frustration. By allowing visitors to book purchases and ride times in advance or through mobile apps and kiosks, the POS system helps track and distribute crowds evenly and ensures a smoother flow of guests, enhancing overall satisfaction.
Dynamic Pricing Strategies
Tixera's Amusement Park POS enables venues to implement dynamic pricing models, allowing for real-time quick and easy adjustments to ticket prices set based on demand and peak periods. This approach encourages visitors to explore the park during off-peak times by offering discounted rates, thereby evening out attendance and optimizing revenue streams.
CRM management can help you build a fanbase that loves your venue and keeps them coming back. With exclusive offers and discounts for members, create a loyal brand following using Annual & Season Pass Management, too!
Membership and Loyalty functions unlock maximum sales with annual and season pass management that can identify and incentivize your loyal customers with specific benefits and membership programs. Create custom annual and seasonal passes with benefits and entitlements that can be used for specific activities on specific days at specific times. That type of precision allows for complete control over your sales efforts!
Seamless Online Ticketing
During peak periods, long lines at ticket booths can be a deterrent for potential visitors. With Tixera's online ticketing capabilities, guests can purchase tickets in advance, eliminating the need for onsite ticket purchases and reducing congestion. Additionally, the system allows for contactless payments, enhancing guest safety and convenience. All this is connected to the one solution as the on-site ticketing so there is no over-sale or double bookings. 
Personalized Guest Experiences
Off-peak periods provide an opportunity for amusement parks to offer more personalized experiences. Tixera POS software captures guest data and preferences, enabling parks to tailor offerings such as special events, VIP experiences, or unique promotions that resonate with individual visitors. This personal touch can boost attendance during slower times.
Data-Driven Decision Making
Semnox Tixera's comprehensive analytics tools empower amusement park management with valuable insights into visitor behavior, spending patterns, and attraction popularity. This data allows operators to make informed decisions about ride maintenance schedules, staffing levels, and promotional campaigns, even during off-peak periods, contributing to operational efficiency.
"Semnox has allowed us to revolutionize our form of operation, using modern technology to our advantage and allowing us to gain valuable data of our park's performance, which we feel in our industry is essential for growth," said Jones. "The main benefits we have seen so far are an uplift in revenue, and we have gained valuable data from the reporting which allows us to make more conscious decisions to move the business forward."
The staffing needs of amusement parks vary significantly between peak and off-peak periods as well. Using data reporting, you can predict visitor traffic to assist in efficiently scheduling staff, ensuring a seamless experience for guests while optimizing labor costs during both busy and quiet times.
Upselling and Cross-Selling Opportunities
During off-peak periods, fewer crowds can translate to a more relaxed atmosphere for guests to explore additional offerings such as merchandise, food, and beverage options. Semnox Tixera POS provides opportunities for upselling and cross-selling by offering promotions and bundled packages, increasing revenue per guest visit.
Amusement parks fluctuating visitor trends with seasonal peaks and off-peak periods present unique challenges and opportunities. Tixera Park Solutions stands as a beacon of efficiency and innovation, offering a versatile POS system that adapts seamlessly to varying circumstances. From dynamic pricing and virtual queues to personalized experiences and data-driven insights, Semnox encourages amusement parks to not only survive but thrive, regardless of the season. By integrating technology and guest-focused strategies, the platform continues to transform the amusement park landscape, ensuring that every visitor's experience is truly exceptional.
Looking for a comprehensive evaluation of your venue? Contact us today and let's get started.