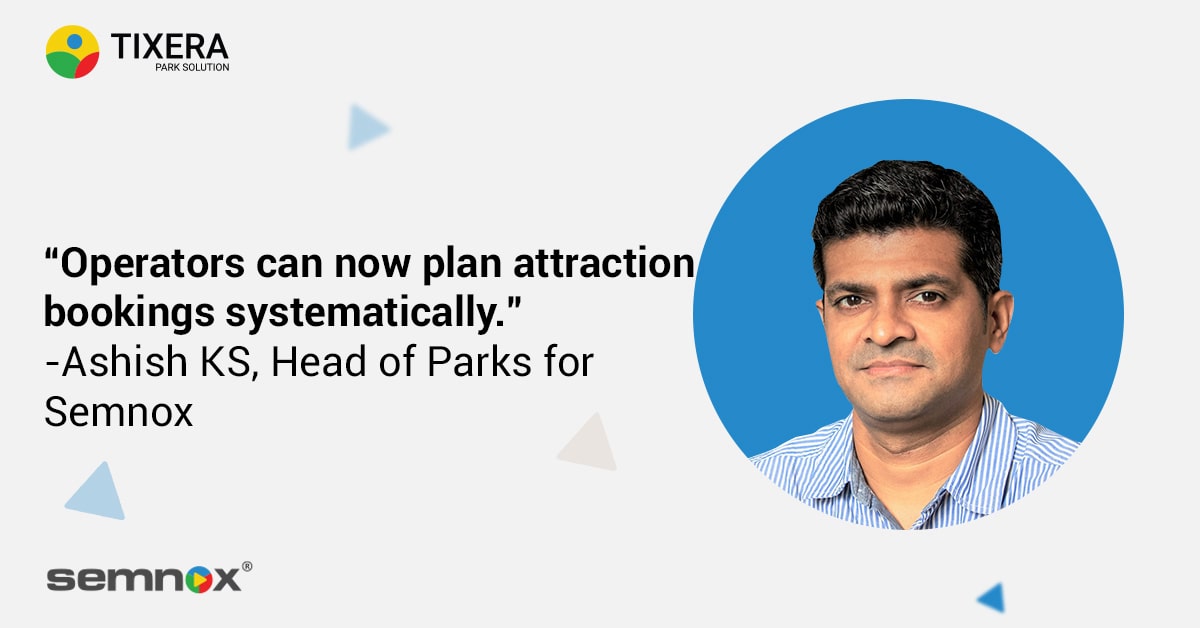 "Operators can now plan attraction bookings systematically." — Ashish KS, Head of Parks for Semnox
"Operators can now plan attraction bookings systematically." — Ashish KS, Head of Parks for Semnox
Attractions are crowd-pullers that can be a major source of revenue for venues. But overcrowding and capacity management are challenges that a regular ticketing system is not built to handle. This is where an Attraction Bookings System comes into the picture! 
Ashish KS — Head of Parks for Semnox — answers key questions about the Tixera software for attraction ticketing and elaborates on the possibilities that can be unlocked for attractions by implementing it.
Keep reading to learn more! 
---
Q: Do amusement venues need a separate module for attraction booking? Doesn't regular ticketing do the same job?
The attraction bookings software allows operators to plan attraction bookings systematically, scheduling time-slots with defined capacities.
Guests can then book slots online or the staff can book slots for walk-in guests. This type of time slot-based booking is not something that a regular ticketing system is built to handle.
But Tixera's attraction booking module can achieve this not just for individuals but for multiple groups and multiple time slots in one go. 
Q: How has attraction booking helped venues in the post-pandemic world? The ability to manage capacity must be useful, isn't it?
Absolutely. With the current scenario, it is a basic requirement for venues to control the capacity of guests.
With slot-based booking, you can prevent overcrowding at attractions by letting guests plan ahead. On the other hand, you can also create a capacity restriction for your venue as a whole. This way, you can manage the influx of visitors effortlessly. 
Q: Apart from capacity management, what would be the use case for Attraction Booking?
The two main reasons for implementing attraction bookings are — one, you need to help guests plan their activities ahead of time; and two, you need to manage capacity and prevent crowding.
For example, take a venue that has shows running for 30 minutes through the day with a seating capacity of 100 people. This would be a perfect use case for this solution. And any number of attractions to be set up within a venue. 
Q: What are the types of venues that can benefit from having attraction bookings available to their customers?
The Tixera's attraction booking software is suitable for any venue that needs to manage access based on time slots. The specific attractions could be a unique roller coaster, thrill rides, a musical show, a 3D Show, a Laser Show, and so on. 
Q: Does the module integrate bookings made online by and on-site by staff on behalf of walk-in guests?
Yes, the bookings made by guests online and by the staff for walk-in guests are synced in real-time. So you can avoid double bookings and any unpleasant experiences for guests. And operators get a real-time view of the available capacity of specific attractions and time slots.
Q: Is it easy for a venue to migrate from a different attraction booking software to Tixera?
Yes, our team has handled many change management projects and we have developed the necessary expertise. We will ensure that the transition is smooth and the downtime is minimal. 
Q: What is in store for the future of this module?
Currently, we plan to enhance the online functionality to allow for the rescheduling of time slots. In the future, it will be linked to Dynamic Pricing and auto-suggest alternate schedules to help venues and guests get the optimum capacity and price. 
---
If you're interested to implement the Tixera's attraction booking software at your amusement venue, then reach out to a representative today —  email us at sales@semnox.com or call us!
Tixera is a solution suite for outdoor amusement venues from Semnox Solutions— the global leader in technology solutions for the entertainment and leisure industry. Call us today!