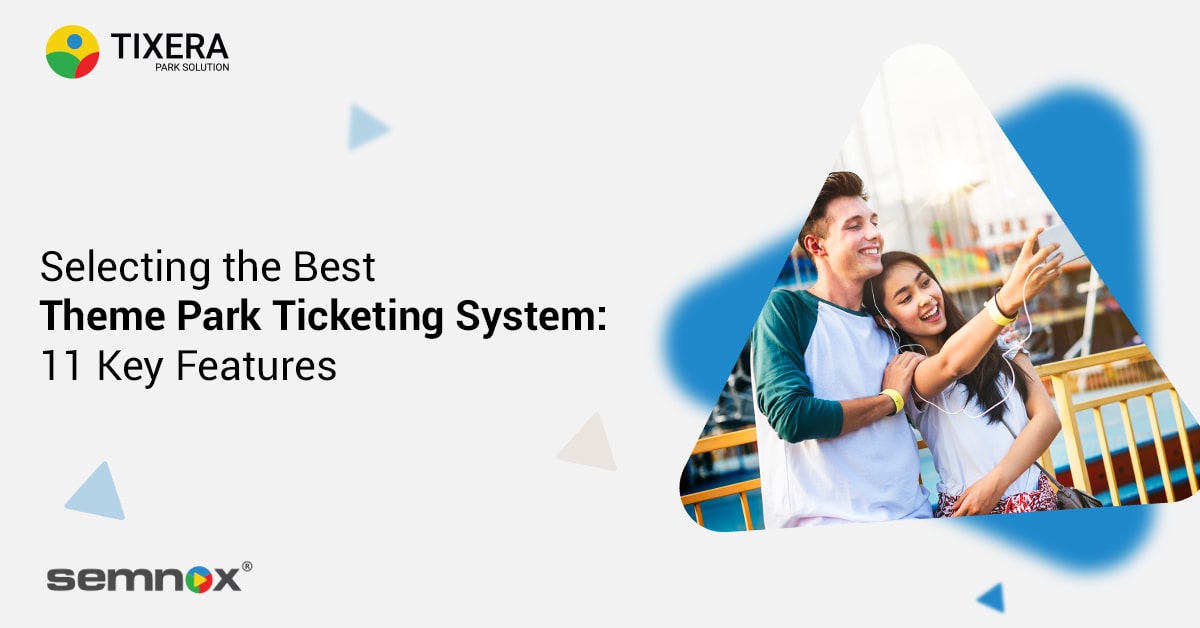 11 Must-Have Features in a Theme Park Ticketing System
11 Must-Have Features in a Theme Park Ticketing System
The success of your theme park and amusement venue depends on guest satisfaction and the overall guest experience.  Providing a well-designed theme park ticketing system can enhance the visitor's perception, even before they step foot in the park. Tixera's theme park POS software is designed to handle all aspects of ticketing, from selling tickets to tracking visitor data and generating insightful reports. 
Theme parks and amusement venues need to provide their guests with a range of ticketing options to maximize convenience. Some guests might prefer to purchase tickets online, others might prefer a self-service kiosk at the venue, while others might want to purchase from a staff member at a point-of-sale counter. The best theme park ticketing system for your venue is one that has all these versatile options while syncing with each other in real-time.
Other things you should consider too — 
Does the theme park ticket software support cashless payments? 
Can operators manage capacity at the venue easily within the system? 
Are there integrated access control products available? 
If you are looking for a ticketing solution for theme parks and are feeling overwhelmed by the amount of information out there, then this blog will help you get a better understanding of what's needed.

Before we dive into the features, let's understand what we mean by 'tickets' in today's modern world of theme parks and amusement venues.
What Are Modern Theme Park Tickets?
Theme Park tickets have traditionally been strips of paper issued to guests by the venue. The tickets have only had one use — allowing guests access to the venue. But modern 'smart' tickets usually come as waterproof wristbands or cards based on RFID, QR-code, or Barcode technology that has the ability to do so much more. 
Paired with RFID readers, these tickets can be used for more than guest entry! They can help your guests make cashless payments at various touchpoints across the venue — be it food and beverage or retail purchases. The tickets can also be used on individual rides to deduct money, validate access, or check in for time-based activities.
Now that we've covered different ticketing options, let's explore the 11 key features to look for in a theme park ticketing system. Here are the 11 features that we will cover in this blog: 
#1: Cashless Ticketing Solution for Theme Parks
#2: Online Ticketing with Integration to OTAs
#3: Theme Park POS Software
#4: Self-Service Ticketing Kiosks
#5: Capacity Management
#6: Theme Park Turnstiles
#7: Dynamic Pricing
#8: Queuing Solutions
#9: Memberships, Season Passes & Loyalty Management
#10: Food & Beverage Sales
#11: Locker Management
1: Cashless
Ticketing Solution for Theme Parks
As mentioned, modern theme park tickets such as QR codes, wristbands, and cards are more versatile than traditional paper tickets. This versatility unlocks the possibility of cashless payments across the park, as well as several other advantages: 
Create Combos: Operators can create combos that include entry to the park plus a specific number of food and beverage items. 
Track Spending: Cashless ticketing software will allow operators to track spending easily, understand guest preferences, and run real-time promotions. This can help create a personalized experience for guests, boosting revenue! 
Customizable: QR codes, wristbands, and cards can be customized to increase brand recognition and recall. 
Easy-to-Use: Guests can simply tap and go! Very easy to use, even for kids. RFID readers scan the tickets easily no matter the conditions. 
Reusable: Tickets are reusable, saving material costs for your venue and positively impacting the environment. 
"When we decided to switch our rides to cashless, it was an easy decision to implement Semnox as we have been hearing good reviews about them from friends in the industry. With the excellent service, we have been able to set up the system ourselves without any hiccups. We look forward to making use of all features provided by Semnox in near future to give a premier experience to our customers," said Maxwell Sheeran, Co-owner of Ocean Beach Pleasure Park.
Modern theme park tickets have many advantages over traditional paper tickets. This makes cashless solutions an essential feature of your ticketing system. 
2: Online Ticketing with Integration to OTAs
A robust theme park ticketing software should offer the option of purchasing tickets online. Online ticketing reduces the queue time and eliminates the need for manual ticket sales. The user interface should be modern and easy to use so guests can make purchases quickly while offering multiple integrated payment options as well.  
Additionally, Online Ticketing Aggregators (OTAs) like Viator and Expedia can help expand the reach of your venue. This is why your online ticketing module needs to be integrated with leading OTAs. This way, tickets purchased on the OTAs are reflected in real-time in your ticketing software. 
3:
Theme Park POS Software
You can't have a theme park ticketing system without theme park POS software. The point-of-sale system needs to effortlessly process large volumes, especially during rush hour to prevent queues from building up. A user-friendly POS has an interface that cashiers can navigate easily. The hardware needs to integrate with cash drawers, receipt printers, pole displays, card readers, and barcode and QR code readers. 
Additionally, it helps to have a handheld tablet POS that your staff can carry around the venue, assisting guests to make purchases on the go! Learn more about our theme park POS software here.
"Our destination is a mix of indoor, outdoor and F&B offerings, and it was extremely important for us to have a system in place that can handle all our needs at one place. Being a single comprehensive system with centralized control, and with our plans for expansion and adapting to more and more cashless and contactless systems, we knew Semnox was our best bet", said Alfred Codonas, owner of Codonas Amusement Park.
4: Self-Service Ticketing Kiosks
Self-service kiosks are a great addition to your theme park ticketing software for guests looking for a quick, self-driven experience, or if you're looking to reduce staffing. These self-service kiosks can be deployed at the entrance, allowing guests to purchase tickets, and can be issued as wristbands, cards, barcodes, or QR codes. Kiosks like the Kinetic can be strategically placed across the park to facilitate card and wristband reloads as well as up-sell functionality.
5: Capacity Management
With all the various ticketing options available, you must ensure you can manage the influx of visitors to your venue. This is why you need a theme park ticketing system that comes with real-time capacity management. 
Operators should be able to view the available capacity of the park in real time and have a clear idea of how many tickets have been purchased for any given day across any of the online or offline channels. Being able to control the influx of visitors to the park is important, especially considering pandemic-related restrictions.
6:
Theme Park Turnstiles
Along with a ticketing system, you will also need access control products for your amusement venue. You can choose from a variety of theme park turnstiles — including tripod turnstiles, flap barriers, and swing gates. These turnstiles can be mounted with readers that can validate guest cards or wristbands with RFID, Barcode, or QR Code, and allow automatic access.
Curious about access control products?

Read this: Theme Park Turnstiles: How to Select the Best Control Products
7: Dynamic Pricing
Imagine that your park tickets were like airline tickets — the price of the ticket changes depending on factors like the weather, season, time of day, etc. This is exactly what dynamic pricing is all about. It's a great way to increase footfall and boost revenue, all while offering the best value to your guests! Real-time analytics is also a crucial feature in a theme park ticketing system that allows theme parks to track visitor data and generate insightful reports that can be used to adjust dynamic pricing based off the time of the year like changing seasons or event happenings in the area.
8: Queuing Solutions
With virtual queue management, your guests will never have to wait in line at an attraction ever again! With the AI-powered engine, a customized itinerary gets created for the guests and their group. They get to reserve their spot on a ride or attraction and just walk in at the confirmed time. It is literally 'Queue-Free'. This avoids crowding around attractions and also maximizes the number of rides a guest can take on any given visit!
9: Memberships, Season Passes & Loyalty Management
Your most loyal guests deserve to receive privileges that make them feel valued. To help make this happen, your theme park ticketing system should come with a membership management system that allows you to create VIP tiers with special discounts and offers. The system must also have a loyalty-based rewards system and the option to renew memberships automatically. Having a membership management system in place provides the best value for money to your most loyal guests, while also guaranteeing a steady source of revenue for your venue!
10: Food & Beverage Sales
Food and beverage sales can be a major source of revenue for theme parks. Therefore, the ticketing system should have built-in F&B sales software. Creating combo packages that include food and drinks along with entry to the venue is a great way to increase the average ticket size.
11: Locker Management
Guests need to have a safe place to store their belongings when they have fun at your theme park. Lockers are the perfect solution! Modern 'smart' lockers don't require physical keys. The entry tickets in the form of RFID, QR-code, or Barcode wristbands can act as 'digital keys' that unlock a hands-free experience for your guests as they roam about your theme park!
The All-in-One Amusement Park Ticketing System
Wouldn't it be wonderful if there was one theme park ticketing system that had all of the above features and more? Well, you're in luck because Tixera Park Solutions from Semnox is exactly that! 
Active at 200+ venues across 20+ countries, Tixera is an all-in-one system for managing theme parks, water parks, attractions, and more! Here's what Ashwin Dange, Business Head of GRS Fantasy Park has to say about Tixera: 
"We began this journey of overhauling our ticketing systems over a year ago. From the time we started listing our requirements to the time we finally trained our staff and went live, Team Tixera has been excellent and professional every step of the way. The icing on the cake was the glitchless transition from the old system to the new Tixera system. I would like to thank everyone at Semnox and my team at GRS for the great effort in pulling off such a huge transition so smoothly!" 
In conclusion, robust and feature-rich theme park ticketing software can significantly enhance visitor experience while improving operational efficiency. Semnox Solutions' Theme Park POS software is designed to offer all the above features and more, making it the ideal ticketing solution for theme parks. All of our hardware and software offer a user-friendly, customizable interface and comprehensive training and support to ensure successful implementation and use. 
Get the complete ticketing solution for your amusement venue! Reach out to our representatives to get a personalized demo today!
FAQ
How easy is it to migrate from the current system to the new system?
If you have a system in place already, you will need to migrate the current data and replicate the current processes within the new system. Semnox  Solutions has a track record of seamless change management with case studies of past work done by us that you can read more about here. 
    2. Can theme park ticketing software integrate with other systems?
Yes, most theme park ticketing software can integrate with other systems, such as payment gateways, customer relationship management (CRM) systems, and point-of-sale (POS) systems. With Semnox, we can provide an all-in-one solution to manage all aspects of your software.
   3. How does theme park ticketing software work?
The software typically operates through a web-based or mobile application platform that allows customers to purchase tickets online, through a mobile device, on self-service kiosks, or at a POS system. The software then validates the ticket at the entrance using a barcode or QR code scanning system.
  4. Is theme park ticketing software secure?
Yes, theme park ticketing software is designed with security in mind and includes measures such as encryption, firewalls, and secure authentication protocols to protect customer data.