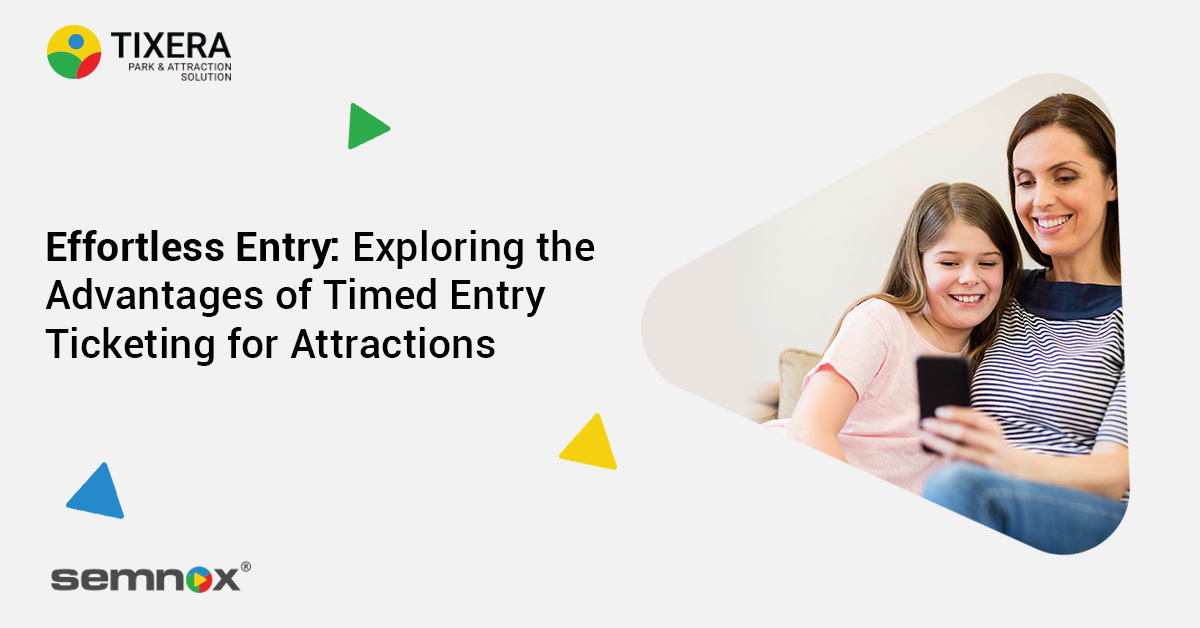 Effortless Entry: Exploring the Timed Entry Ticketing Attraction Advantages
Effortless Entry: Exploring the Timed Entry Ticketing Attraction Advantages
In the fast-paced world of the entertainment industry, attractions are constantly seeking innovative ways to enhance guest experiences while optimizing operations. One such solution that has been gaining significant traction is Timed Entry Ticketing for attractions. This cutting-edge technology, offered by Semnox's Tixera Park Solutions, has revolutionized the way attractions manage their admissions process. In this blog, we will delve into the advantages of Timed Entry Ticketing attractions and how they simplify access control, queue management, and data reporting, all while elevating guest satisfaction.
Streamlined Entry Management:
Timed Entry Ticketing is an ingenious way to ensure a seamless flow of guests into the attraction, especially during peak times. Instead of battling long lines and overcrowded entrances, visitors can reserve specific time slots in advance, optimizing their park experience from the very beginning. This approach reduces wait times, minimizes congestion, and enhances overall guest satisfaction.
With Semnox's Tixera Park Solutions, guests can enter your entertainment venue using a ticket in the form of an RFID, QR code, barcode, or paper ticket. This flexibility caters to various guest preferences while ensuring a smooth entry process. The validation of tickets can be done manually by the staff using handheld devices or, for a more automated approach, through reader-mounted access gates.
Access Control with RFID Readers:
Timed Entry Ticketing for attractions is further strengthened by advanced RFID technology. RFID wristbands or cards serve as access keys for guests, eliminating the need for traditional paper tickets and reducing the risk of fraud. RFID readers at entry points facilitate swift and secure access control, enhancing the park's overall security measures. These wristbands also serve as convenient cashless payment options, streamlining transactions throughout the park.
Semnox offers a range of waist-high access gates for attractions, including tripod turnstiles, flap barriers, and swing gates. For added convenience, full-height variants of these gate types are also available, some of which include wheelchair access. This selection empowers attractions to choose the entry gates that best suit their specific requirements, further enhancing the guest experience.
Multiple Ticket Purchase Options:
Tixera Park Solutions allows guests to buy tickets onsite, online (B2B and B2C), and at self-service kiosks. The tickets are available in various formats catering to the preferences of different visitors. With the ability to configure access criteria, including time-based entries, attractions can efficiently manage ticket sales and access control all from a single platform.
An Amusement Park POS system can automate key processes and integrate everything from ticketing sales to access control, tracking everything along the way to give you essential metrics for real-time reporting to help you make better business decisions. Jamie Jones, Executive Director of Great Yarmouth Pleasure Beach recently updated their operations stating:
"Semnox has allowed us to revolutionize our form of operation, using modern technology to our advantage and allowing us to gain valuable data of our park's performance, which we feel in our industry is essential for growth. The main benefits we have seen so far are an uplift in revenue, and we have gained valuable data from the reporting which allows us to make more conscious decisions to move the business forward."
Queue Management and Guest Experience:
Timed Entry Ticketing not only benefits visitors but also contributes to better queue management within the attractions. By spreading admissions throughout the day, the park can maintain optimal crowd levels, reducing queue lengths and wait times at popular attractions. Guests can optimize itineraries, allowing them to visit all the rides they desire without having to wait in long lines, and phone notifications inform them when it's their turn! As a result, guests can enjoy more rides and experiences, leading to higher satisfaction and an increased likelihood of returning for future visits.
"We recognize the importance of keeping up with this trend and providing the benefits of technological advancements and convenience to our customers. Semnox is a user-friendly solution with a strong industry presence and offers products catering to businesses and guests. We are pleased to have been introduced to Semnox and to have achieved our goals with their help," said Ms. Diana Baguma, owner of Aqua World Waterpark.
Timed Entry Ticketing for attractions has emerged as a game-changer for the entertainment industry. Semnox's Tixera Park Solutions offers a comprehensive solution that centralizes control, streamlines data reporting, enhances access control through RFID readers, and optimizes queue management. By leveraging this innovative technology, attractions can ensure effortless entry for guests, leading to improved guest experiences and increased operational efficiency.
Embrace the power of Timed Entry Ticketing attractions with Semnox's Tixera Park Solutions and watch your attraction soar to new heights of success. With improved guest experiences, data-driven decision-making, and streamlined operations, the path to becoming a top-notch attraction has never been clearer.
To learn more about our Timed Entry Ticketing solutions and other cutting-edge offerings, visit our website or contact us today!