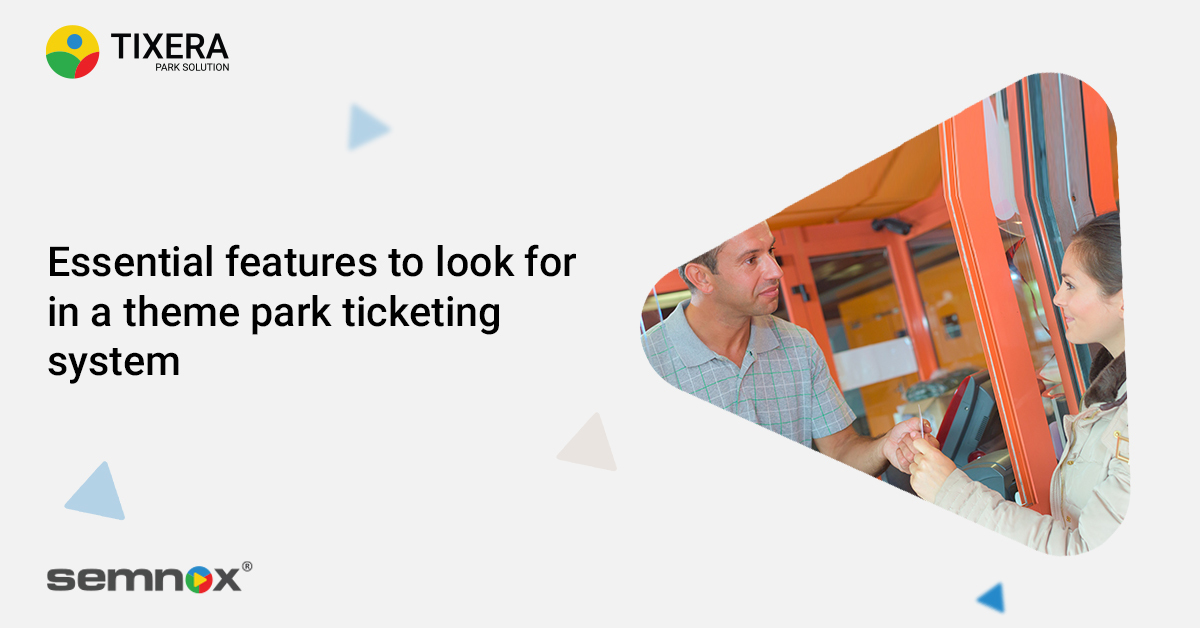 Theme Park Ticketing System 3 Key Factors to Consider
Theme Park Ticketing System 3 Key Factors to Consider
3 Key Factors to Consider When Choosing A Theme Park Ticketing System
Just as you, an individual, have your own wants and needs, so does a business. No two businesses are the same, no matter the industry or location. Even when it comes to entertainment facilities, a theme park won't have the same type of ticketing and management requirements as a waterpark. That is where customizing your ticketing system comes in handy – and at Semnox, we want to make sure you don't underestimate the importance of this.
Your theme park's ticketing system can affect the efficiency and even the customer experience of your operations. Here are some key factors we think you should consider when choosing your park's ticketing software:
Opportunities for Integration:
Business plans are cohesive, inter-mingled puzzle pieces – not individual factors. Meaning the factors should be able to work together as complementary solutions to the greater purpose: fulfilling and exceeding the mission of your theme park as a whole, all while creating lasting memories for your guests. Since this is sometimes harder to achieve than we'd like, we'd like to make your lives easier.
Integrative and multi-purpose systems, like Tixera, simplify your software – no more various pieces of clunky equipment or trying to remember what each program does. Everything is streamlined into one user-friendly platform. Your customers can benefit from the integrations, too. When purchasing tickets can be combined with time slot bookings for entry control, your guests won't have to deal with the unsatisfactory feeling of impatience before they enter your doors. Tixera is already seamlessly integrated with our range of turnstiles and POS kiosks and online sales. You can also add opportunities to up-sell additional selections during the purchasing process, such as retail and merchandising sales.
Automation:
By having integrated ticketing systems, you can have multiple POS access points and still maintain capacity control of your amusement park's attendance to ensure maximum customer satisfaction – all without having to communicate this across the different channels yourself. The option to buy tickets online, onsite at ticket counters, and also at self-service kiosks alleviates the normal clutter of a ticketing booth line.
Additionally, you end up spending less money on hiring more employees to simply handle the foot traffic, and instead, your money can be focused on employees interacting with customers directly at other stages during their guest experience. This ensures better customer service and prevents customers from wandering around looking for an employee for assistance. This is a key solution if your theme park has been dealing with labor shortages, a recurring issue in recent years.
Gain Insights from Your Amusement Park Management Software:
Insights are crucial to understanding the health and state of being of all aspects of your amusement locale. It's important to keep an eye on your insights, because that way you can fine-tune and analyze what is working in your park's interest, and what is not.  With a theme park ticketing system that is integrated and automated, these insights become centralized to one place, and can, therefore, make inferences on customer behavior along the way. These insights and subsequent reports that are generated can keep you ahead of the game in terms of stock/supply management, daily staffing needs, and trends, as well as saving time and reducing errors from manual efforts of joining multiple reports into one.
Semnox's array of complete amusement park management software solutions can fit your theme park's needs like a glove. Whether you are in search of a holistic solution approach or prefer to dial in on certain areas of your business, solutions like our Tixera system can be the answer to your attraction software issues. When you're ready to reevaluate your attractions' ticketing software, contact us today to inquire about which of our software or hardware systems works best for you.