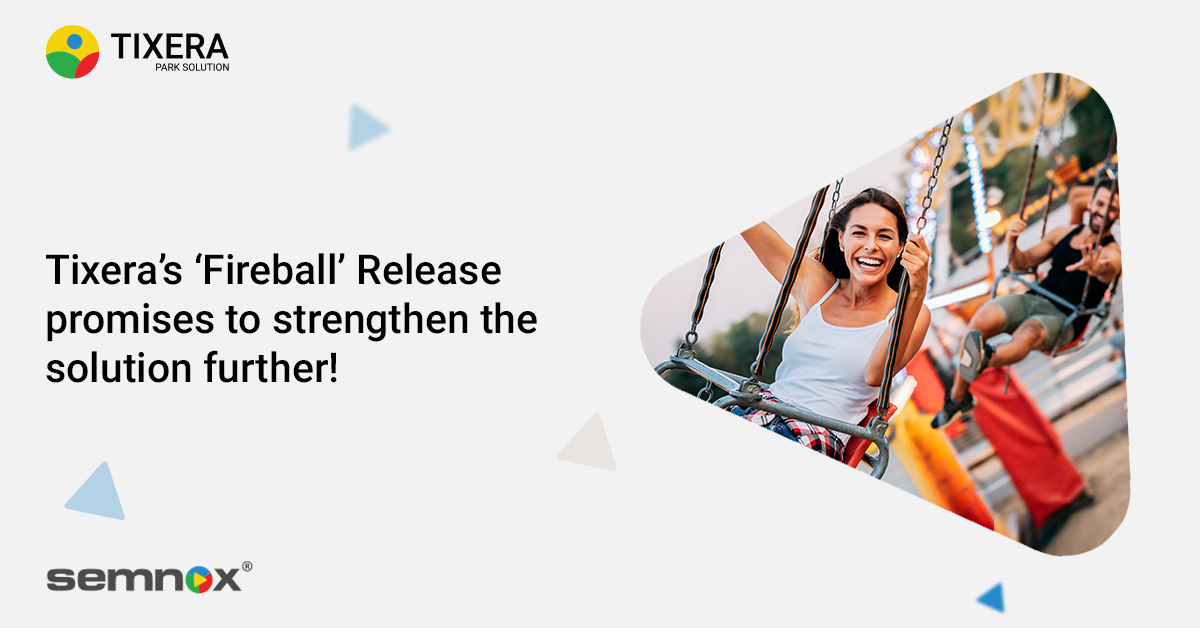 Tixera's 'Fireball' Release promises to strengthen the solution further!
Tixera's 'Fireball' Release promises to strengthen the solution further!
After a rollercoaster year, consumers are now thrilled to get back to leisure experiences outside the home. Covid – 19 has impacted how people interact. It has made people accustomed to navigating the world at their own pace and in their own space during the pandemic. 
Now, they're expecting the same type of experiences at theme parks and coincidentally Semnox has launched a new update for Tixera called Fireball 2.130.0 with advanced capabilities in POS, Reports, Lockers, and Web Management Studio. 
Stability and performance are a priority which means critical bugs have been identified and resolved. Let's take a closer look at all the major enhancements by Tixera for Fireball 2.130.0:
Major Enhancements
POS Attendance
The staff attendance module in POS has been enhanced so the functionality is more flexible and accurate. The Clock-in and Clock-out from the POS are now editable and customizable based on the hierarchy of the users. At the user role level, here are the enhancements that are made:
Ability to auto clock-out when a staff clocks-in
Ability to add/modify/delete a clock-in or clock-out time record
Ability to modify the attendance role for a clock in/out of the record
Pay Rate Configuration and Calculation
Clients using the Attendance Module can calculate the pay rate for the staff. This enhancement comes with the following features:
The ability for the business to configure custom pay rates based on individual users
The ability for the business to calculate pay rates for overtime
The ability for the business to generate attendance and pay rate reports
XERO INTEGRATION
Tixera systems are now integrated with Xero accounting systems. This integration will leverage accounts to synchronize information from the POS system into Xero. The Xero integration automatically syncs sales orders, payments, purchases, and more. 
Xero is a web-based accounting system designed for small and growing businesses. It connects businesses with their trusted advisors and provides business owners with instant visibility of their financial position. As a web-based solution, Xero can be accessed from any device with an active internet connection. With Xero's robust accounting features, businesses can view their cash flows, transactions, and account details from any location. 
POS STOCK
The POS module has been enhanced to allow users to receive the inventory items at POS counters for quick sales. This enhancement is aimed at reducing the delay in selling unavailable products at the stores. 
SMARTFUN VIRTUAL ARCADE INTEGRATION
Semnox's customer app 'Smartfun' now comes with the ability for virtual gameplay for its users. The virtual game plays in the app can be mapped to gameplay on the site. The app users playing the game will receive points and these points received through the gameplay can be redeemed in-store. 
LOCKER INTEGRATION: METRA
Semnox's locker management systems are integrated with Metra lockers – one of the leading digital locker vendors. The Metra locker system works based on network API to allocate lockers. Metra lockers are more reliable and provide many advanced features. In this first phase of the integration, lockers can be allocated in two modes – free and fixed lockers. 
STANDARDIZATION OF REPORTS
The reports module has been standardized to include solution-specific reports. The default reports available on installation have been standardized to include popular and set of useful most-sought metrics as a part of the reports. The enhancement in reports include:
Enhanced dynamic login page in web reports based on solution vertical
POSXReceipt and POSZReceipts enhanced to use customized design templates
Ability to make web reports as Active or Inactive
Integration of Tableau Dashboard in web reports using report-level set up
Show Game Profiles by default in the Game metric report
Apart from these, there are some minor enhancements to the POS in the new Fireball release. Here they are:
POS UI REDESIGN
POS has been seeing a massive redesign from the conventional design. In this release of POS, the following task functionalities have been redesigned:
Tasks convert points to a time
Convert time to points 
Token inventory
Pause time
Load bonus
Redeem bonus for ticket
Redeem ticket for bonus


Case Study: GRS Fantasy Park


PAYMENT GATEWAY INTEGRATIONS
MASHREQ's EZETAP CREDIT CARD TERMINAL
This enhancement will support the following functionalities for transitions on POS and Self Service Kiosk through this gateway:
Making a payment
Void or refund the payment
VISANET
This enhancement will support the following functionalities for transactions on POS and Self Service Kiosk through this gateway:
Making a payment
Void or refund the payment
WORLDPAY ONLINE PAYMENT
Semnox systems support the payment gateway WorldPay for online payments. In this release, this integration was enhanced to enable 3DS2 validation. 
REPORTS ENHANCEMENTS AND FIXES
The following report has been enhanced and issues have been resolved:
Inventory Aging Report
Purchase Order Report
Received Inventory Report
Inventory Adjustments Report
Inventory Report
Transactions Report
POSX Report
POSZ Report
Revenue Report
Staff Clock In/ Out Report
Staff Clock In/Out Biweekly – New Report
Tech Card 
Game Metric Report
Card Activity ( Game Metric Subreport )
View Play Details ( Game Metric Subreport )
Inventory Status Report 
Redemption
Shift Open Close Report
Booking Receipt
If you're looking for a solution to help you streamline your point-of-sale operations along with a whole host of comprehensive features, contact a Tixera representative right away at sales@semnox.com or via phone!