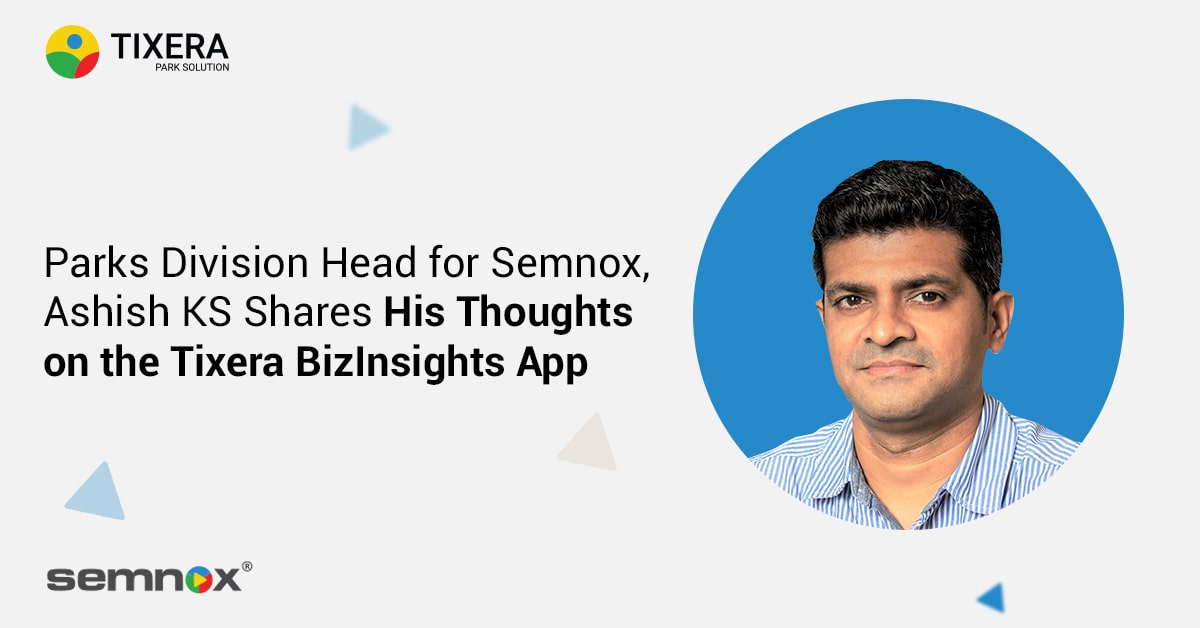 Parks Division Head for Semnox, Ashish KS Shares His Thoughts on the Tixera BizInsights App
Parks Division Head for Semnox, Ashish KS Shares His Thoughts on the Tixera BizInsights App
Semnox recently launched BizInsights — an exclusive mobile app as an add-on to the Tixera amusement venue management system. We asked Ashish KS, Head of the Parks Division of Semnox, to share his thoughts on the app and how it meets the requirements of park owners and operators. 
---
Q: Why is BizInsights called a dashboard app? What can Semnox clients expect to see inside the app? 
We had several clients speak to us about the challenge of staying on top of what's happening at the venue when they are on the move. There is no time to do a detailed analysis, they just want some quick views. That's why we created BizInsights — and it's a dashboard app because it gives you a quick summary of what stakeholders need to know. This includes Sales, Operations, Attractions, and Sales Trends. 
Q: Is it really necessary for park owners and operators to have the BizInsights app? What problem does it solve for them? 
The owners and the key stakeholders typically do not have the time to go through big spreadsheets nor are they satisfied by one number at the end of the day. BizInsights gives the perfect amount of data in a visual format which is also customizable. When you have visibility on operations anytime and anywhere, you are more likely to see trends clearly and leverage them in a timely manner. It also helps owners and operators to anticipate problems and deal with them before they get out of hand. With internet connectivity getting better, it's easy to send data to your phone in real-time from the cloud. 
Q: What is the advantage of having data visualized rather than presented as numbers and text? 
We know that the human brain processes visual information 6000 times faster than numbers and text. Most of the information we process every day is visual. So it makes sense to work with the brain rather than against it! When you see visual information, you process it faster and can make decisions quickly as a result of it. Additionally, the app is interactive — it has a drill-down feature allowing you to filter the data for easier analysis.
Q: Are there situations where customers have noticed problems before they escalated because of the information on the app? 
Having relevant summarized information just helps you plan better without spending too much time crunching numbers and joining spreadsheets. We have cases where operators notice that on a particular day, more kids' tickets have been sold than normal. This has prompted them to inform the canteen team to prepare more food that children are likely to order. Or they can compare how many bookings the park has had versus how many have entered so far today, so they know how many more might show up. 
Q: What if I need a custom dashboard for my business? 
The dashboards are absolutely customizable. There are some standard metrics and charts that you see by default that have been built with feedback from a lot of our customers. But we understand that there are things unique to each venue that they would want to track and plan. 
Q: Can I get multiple managers to access the app? What are the prerequisites to get the BizInsights mobile dashboard app?
Yes, you can purchase multiple licenses to the app and each license will come with separate login credentials. And to be using the app, your venue should be using the Tixera venue management system and you need to be subscribed to Semnox Cloud Services.
Q: What is in store for the future of Tixera BizInsights? 
With the number of touchpoints that our system has with the guest, there is obviously a lot of information collected. Now it becomes possible to forecast future trends more accurately. So we are working on developing predictive analytics within BizInsights taking out all the guesswork from planning.
---
Would you like to have essential business metrics at your fingertips and always be able to keep your eye on the bigger picture? Then Tixera BizInsights is for you! Reach out to our representatives — email us at sales@semnox.com or call us now!