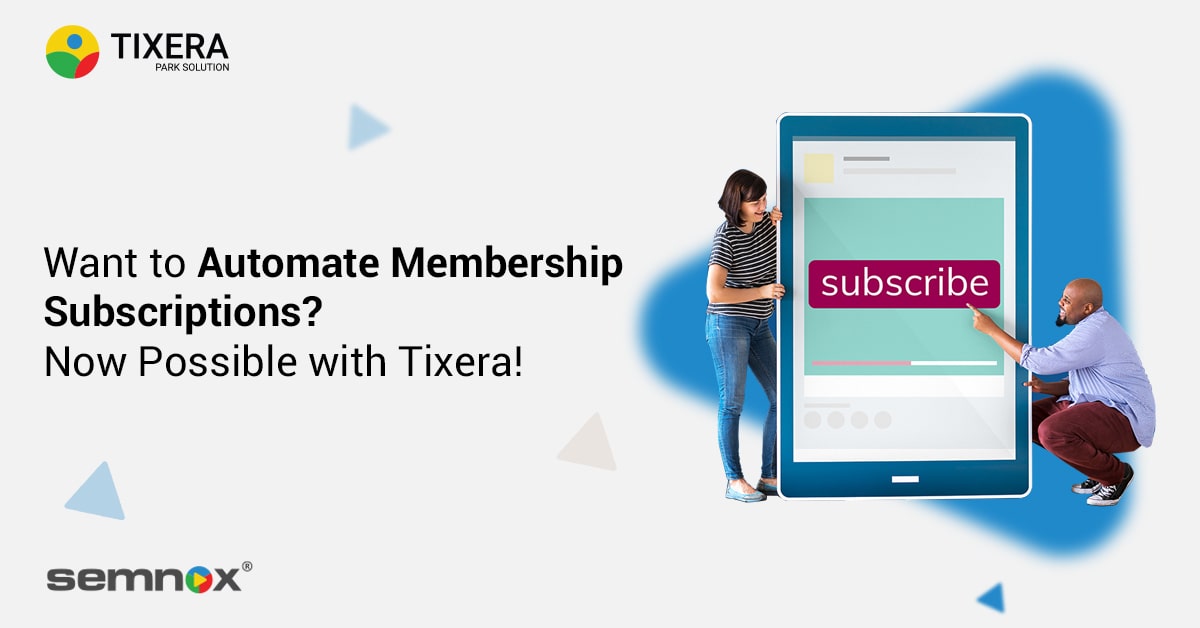 Want to Automate Membership Subscriptions? Now Possible with Tixera!
Want to Automate Membership Subscriptions? Now Possible with Tixera!
Imagine your amusement venue guests could subscribe to their favorite attractions — be it a specific roller coaster or the Ferris wheel at your park — in the same way that they subscribe to Netflix! This is possible now, with the latest release from Semnox Tixera — the amusement venue management platform.
According to a survey by Manifesto Growth Architects, 70% of senior business leaders across various industries say that subscription business models will be key to their prospects in the years ahead. Subscription-based models are attractive for two reasons — they offer operators a simple strategy to ensure recurring revenue and they offer guests a great opportunity to save money on their favorite attractions. But subscriptions can be more versatile than that. Let's find out how! 
Maximum Delight at Minimum Expense 
Subscription products can be set up with a combination of product offerings to help your customers derive the best deal — for example, let's say you run a theme park that has 2 roller coasters — among other attractions. And let's say a particular guest loves the roller coasters and wants to go on a ride every week. 
You can set up a subscription that offers entry to the venue, access to the 2 roller coasters, and throw in a certain number of food or beverage items at your food court as well! You will be able to define the maximum number of rides and food items that are allowed within the package as well. 
Tixera further streamlines the subscription experience by allowing guests to auto-renew the subscription when it expires — removing the need for guests to make the decision over and over again. There are automatic reminders to guests for the due dates of the renewal as well. If required, there is a provision for a grace period for the renewal of expired subscriptions.
Operators can offer a free one-month trial period and guests can request to pause/unpause their subscription. Tixera gives operators detailed analytical reports, providing a quick overview of the subscription's expected revenue or due.
As you can see, creating a few subscription combos with multiple attractions and items is a simple but effective way to delight your guests!
Building Long Term Relationships With Guests
Brand loyalty — creating a reliable base of regular guests who love your venue — is the key to the success of any business. When a guest buys a subscription at your venue, they commit to a long term relationship. They also benefit from savings on their favorite attractions by purchasing the products at a lower cumulative cost. 
Retaining an existing customer is easier than acquiring a new one. So, subscriptions also help cut down your customer acquisition costs. Additionally, you benefit from the opportunities to sell to them on their recurring visits!
The Innovative Approach to Venue Management
The subscription model for attractions is just one among the system enhancements released for Tixera this quarter. A dedicated Research & Development team is constantly working to ensure that the Tixera venue management system is future-ready. This way, you can consistently create a world-class experience for your guests! 
Tixera is an integrated ecosystem of products and services that work together seamlessly, allowing you to manage all operations from one place. Trusted by 200+ venues across the world, Tixera is the only venue management system you will ever need! 
Want to upgrade to Tixera? Can't wait to configure and launch subscription products for your guests? Get in touch with our representative right away — email us at sales@semnox.com or call us now!