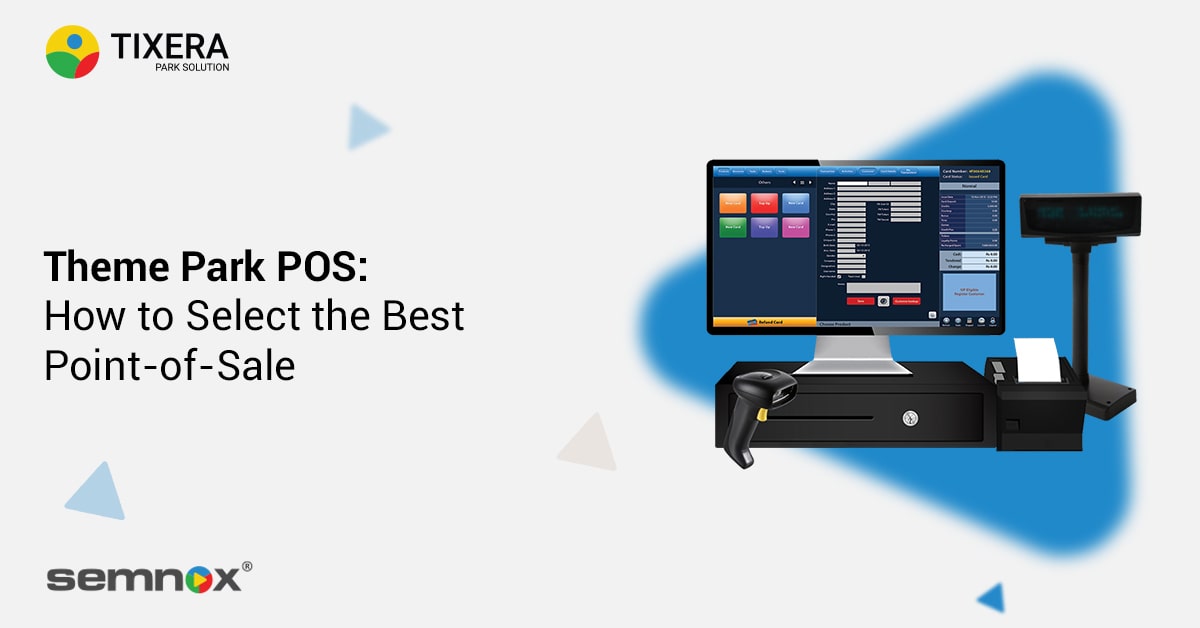 Theme Park POS: How to Select the Best Point-of-Sale
Theme Park POS: How to Select the Best Point-of-Sale
The Point-of-Sale (POS) at a theme park or amusement venue is where 90% of guest interactions with staff take place. The POS is an in-between zone — between the guest wanting to experience something and actually getting to experience it — be it just before entering the venue and immersing in a world of fun, or ordering some food or beverage item and indulging in it.
The effectiveness of your theme park POS software determines the speed at which cashiers can process transactions and cut queues. In turn, this determines whether your guest has an unforgettable experience or an experience they wish they could forget!
An amusement park POS system also needs to have the necessary integrations — for example, with your online ticketing module to prevent double bookings! It also helps to have a mobile Point-of-Sale available so that the staff can meet your guests anywhere in the venue.
That is a lot to expect from one POS solution and you might be thinking — there cannot possibly be one amusement park POS system or theme park POS software that does it all. But there is — Tixera's POS system for theme parks and outdoor amusement venues does all of the above and more!
With robust hardware and software components, the Tixera POS helps cashiers meet guests' requirements quickly and significantly reduce queuing. If you are in the process of selecting a POS or considering upgrading your POS, then you have come to the right place!
In this blog, we will show you exactly what you need to look for in the best Point-of-Sale system for your theme park or amusement venue. Let's dive in!
Essential Theme Park POS Features
If you have been wondering — what should I look for in a POS system? Then this is where you should start. Here are the essential features that you need to look for:
Comprehensive Hardware

: The POS should work well with both touch screen monitors and standard PCs. It should also integrate with cash drawers, receipt printers, pole displays, card readers, barcode readers, and QR code readers.

Integrated Payments

: Apart from accepting cash payments and debit cards, the POS should support credit cards across leading economies.

Better Staff Management

: The POS must come with built-in, shift-based login and HR controls for staff efficiency. A standard POS is also expected to record each cashier's sales summary.

Seamless Scalability

: When you have multiple Points-of-Sale, the system should allow you to control all of them centrally and get an overview of the activity across all your venues.

Enhanced Customer Experience

: To help easily upsell and cross-sell products to customers, the POS should show the cashier messages based on the customer's past behavior. It should also be possible to easily configure combos, discount packages, promotions, and loyalty programs.
But what makes a POS system truly great — what sets it apart from the competition — is its user interface. The speed, flexibility, and ease of navigation of the interface are important for cashiers who need to process transactions quickly. The fonts and button sizes should not be a strain on the eyes. And the navigation structure should be intuitive so that the cashier can look at the customer and engage with them while processing the transaction. In other words, the POS interface should be designed with the cashier in mind. Here are some features to look for:
Consistent and progressive theme

: The interface needs to be modern and easy on the eyes. The font style, font sizes, icons, and other elements should feel natural and not jarring to the senses. The readability of text across all screens is essential here.
Quick and intuitive navigation: The placement of different levels of selection should be intuitive. Messages should pop up based on the context and in the right place. If a more complicated operation is being undertaken, a wizard should be there to guide the cashier step-by-step. Ultimately, the question to ask is — do I have to spend a lot of time training cashiers to use this interface or will they get it quickly?


Seamless scaling across screens

: When the resolution of the monitor changes, the POS interface should not distort. The content should seamlessly fit in the right manner.


User-friendly touch targets:

The buttons on the interface need to be user-friendly. This means that they need to be large enough with adequate spacing between them. It should also be possible to customize the button colors, textures, and sizes if needed.
Tixera's theme park POS has all of the features mentioned above. But what truly unlocks the power of a POS is the integrations it has with other modules of your theme park management system. That's what we'll look at next.
Essential Theme Park POS Integrations
While there are several modules that your theme park POS can be integrated with, there are 3 integrations that are critical:
Online Ticketing Module:

Your guests might choose to purchase their tickets online either directly on your website or through an Online Ticketing Aggregator like Viator. To help with better planning and capacity management, the POS and online ticketing module must be synced in real-time.
vInventory Management Module: The inventory available should reflect accurately on the POS so that your cashiers don't accidentally sell products that are out of stock. Additionally, this will help you keep a track of what's moving and what's not, enabling better purchasing.
Customer Relationship Management (CRM) Module:

From membership tiers to promotions, there are many ways in which your CRM can help you craft a delightful experience for your guests. When integrated with the POS, your CRM becomes most effective — it allows cashiers to cross-sell and upsell products based on information about the guest's previous purchases and behavior.
The staff at the POS counter can issue RFID wristbands or cards to the guests for access to the venue and also load them with credits for cashless payments once the guests are inside the venue. If you want your staff to be available to serve guests for purchases anywhere inside the venue, you can also opt for a mobile Point-of-Sale for your theme park. Let's understand how it works.
Mobile Point-of-Sale for Theme Parks
Tixera offers an Android-based Point-Of-Sale tablet for theme parks and amusement venues that works as a mobile kiosk and helps you meet with guests at any location. The device comes with a built-in RFID reader and allows recharging of credits on the wristbands.
The mobile POS is particularly useful for food courts, as it allows staff to take table-side orders and print Kitchen Order Tickets automatically in the kitchen.
Food Court Point-of-Sale for Theme Parks
Most theme parks and amusement venues have a food court or two, and they need a POS counter here as well. While guests can buy combo products that include both entry tickets as well as food and beverage options, they can choose to make purchases at the food court POS as well.
The Tixera Food & Beverage Sales POS is well-equipped to allow staff to manage table layouts, split bills, and organize shifts. It is integrated with the Kitchen Display Systems (KDS) and Kitchen Order Token (KOT) systems for simplified order management.
Retail & Merchandise Point-of-Sale
Apart from food courts, another great way to boost revenues is with retail and merchandise sales at your park. The Tixera Retail & Merchandise Point-of-Sale enables easy tracking and maintenance of merchandise inventory. It is also integrated with the Inventory Module, allowing you to track stock movement from one place.
Guests are given the option to purchase retail and merchandise items with tickets, or exchange accumulated loyalty points for merchandise — giving them the incentive to visit your venue more often!
Choose the Tixera Theme Park POS Solution!
The Tixera Theme Park POS system has recently been enhanced with the latest innovations in user interface design to help cashiers create a great first impression on your guests! So if you are looking for a POS system for your amusement venue, then look no further! Reach out to our representatives right away — email us at sales@semnox.com or call us!