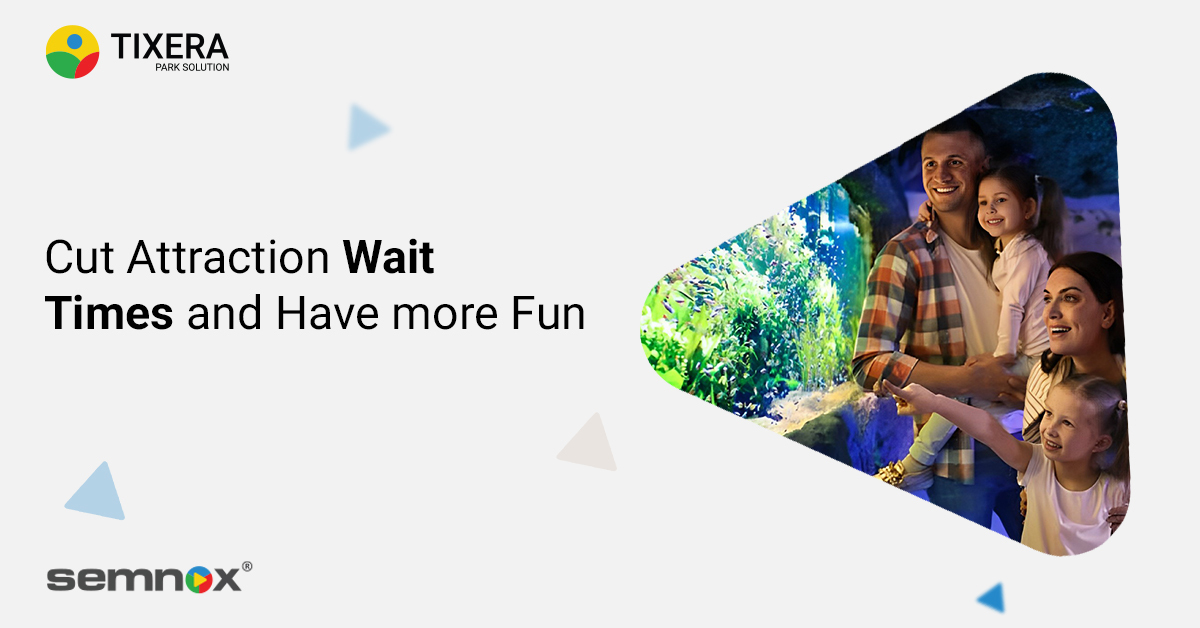 Cut Attraction Wait Times and Have More Fun
Wait times coupled with long lines at amusement parks are a point of frustration for many guests and amusement park operators alike. "Waiting in lineis the best part," said no one ever. But with new technology, there are ways to speed up the process from arrival and check-in procedures to ride access and fast pass lanes. Read on to see how Semnox'sTixera Park Solutions can help cut wait times so guests can have more fun!
Manage Guest Flow Before Arrival
You can cut down wait times before guests even arrive. Give your guests the freedom to buy tickets onsite, online, and at self-service kiosks. Tickets are available as RFID cards, RFID tags, barcodes, wristbands, and more. Customers can complete bookings on any device with just a few clicks and get immediate confirmation of the booking via SMS or email. It truly is fast, easy, and convenient for everyone. Tixera's online ticketing system could allow you to manage the guest flow around the venue, plan kitchen volume and inventory better, and capture data for enhanced customer insights.
Paired with our Self-Service Kiosks and access control software, you can create a seamless entry experience that can handle a high volume of footfall at your amusement venue. Self-service kiosks give guests another opportunity to purchase tickets and attractions without waiting in line, and validation of tickets at entry can be done manually by the staff using a handheld device or automated using reader-mounted access gates.
"Thrill city is the only amusement park in India located in the heart of Hyderabad with a bundle of fun, thrill, and larger-than-life experiences for the visitors. We did not want to compromise on the experience for the customers and Semnox made it possible for us to provide the best-in-class technology to power our systems and provide a smooth experience for our staff and visitors. We are happy to have made this decision." said Rajnikanth, Director of Thrill City.
Manage Guest Flow Around the Venue
"So many rides, but not enough time to visit them all," is a more accurate statement an amusement park guest would make. Nobody likes waiting in line, and it eats into so much of your visitor's day and can also negatively impact an attraction's perceived value by the guests. What if there was a way to eliminate the lines AND enhance your customer's experience?
Crowd control and line management within attractions not only improve ride operations but also improves the perceived value of the experience by your guests. Gone are the days of waiting in long lines, instead help your guests make the most of their time at your venue. Fast Passlanes can provide an opportunity to upsell while giving the appeal of exclusivity. The use of a reader-mounted turnstile, barrier, or swing gate allows guests to scan their RFID, QR code, barcode, wristband, or paper ticket upon entry to the fast lane.
Manage Guest Flow at Popular Attractions
The ultimate solution to overcrowding at rides and attractions is Tixera'sTheme Park Queuing System or Attraction Booking Software. A reservation-based system eliminates the need for a line at a ride.
Guests can get an optimized itinerary that ensures they get to take all the rides they want without ever waiting in line. With Queue Management, you can enable ride reservations and group reservations, ticketing can be customized with accessories and add-ons, and guests can access itineraries and tickets via email at any time. You can also enable notifications regarding ride closures for maintenance, and ride guidelines based on height and age restrictions which further enhances the guest experience.
Related: Contactless Payment Methods Are Here to Stay in Attractions Industry
Semnox'sTixera Park Solutions can help your guest utilize their time more efficiently and create unforgettable memories at your venue, all while making your park and staff more resilient to overcrowding and long wait times. Tixera is a solution for outdoor amusement venues such as Adventure Parks, Amusement Parks, Water Parks, Zoos, and Aquariums. To learn more about our theme park reservation systems and amusement software, contact Semnox today.