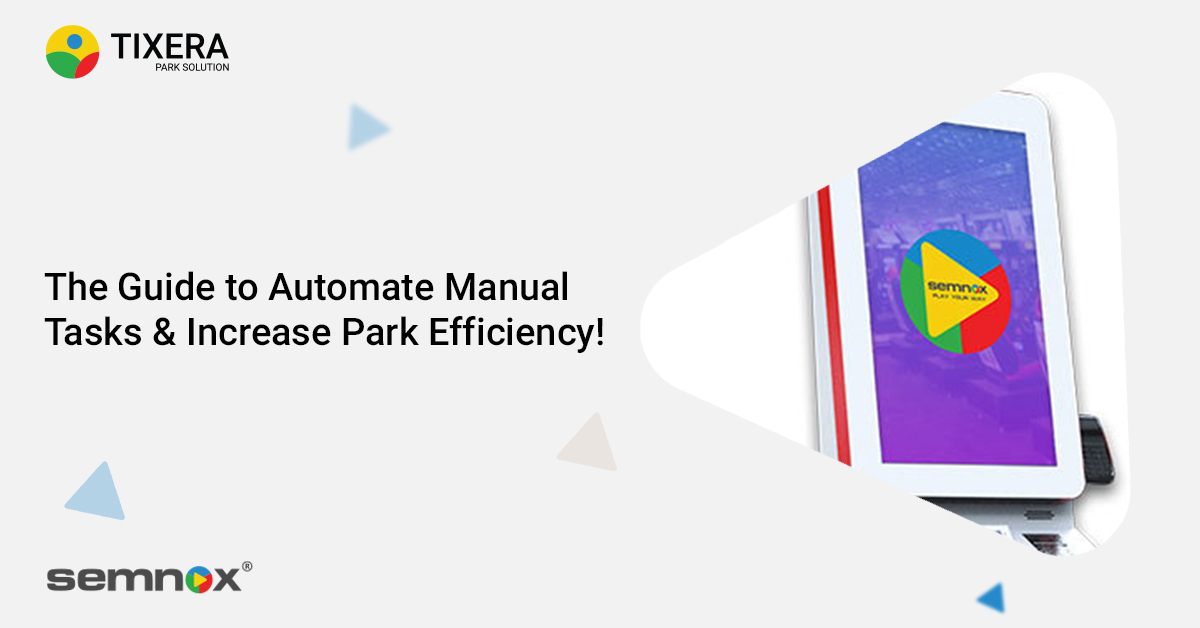 Guide to Increase Park Efficiency | Amusement park POS system
Guide to Increase Park Efficiency | Amusement Park POS system
Theme parks are loved all over the whole world, but amid the excitement and thrill rides is the very serious business of maintaining safety standards and optimising efficiencies. 
High guest expectation, big rides and all the thrill brings with it new operational and safety challenges, making the need for automating and simplifying manual tasks more important than ever. The pandemic has escalated the need for this with ever-changing guidelines and policies. That's why it makes sense to take a fresh look at your amusement park POS system and assess what needs changing.
Here are some issues with manual operations:
Requirement of increased man-power
Increased operation cost
Slow work processes
Bad customer experience
Inaccuracy
Pilferages
Accountability and monitoring issues
Long queue and crowding
No time or scope to upsell/cross-sell
Slim chances for upgrading or scaling up
Transparency, consistency and automation may help in doing more with less. Here are a few ways you can handle the situation to keep both your team and your guests happy.
Let's take a look.

Improve Park Effeciency with Amusement Park POS System:
Here's how
#1: Reduce staffing with self-service kiosks & online ticketing
Let self-service kiosks do the heavy lifting so your guests can purchase tickets and check-in by themselves, thus reducing the need for staff at the counters. In this way, your staff can spend more time interacting with guests, leading to improved guest experience and reduced errors. 
#2: Effective CRM 
Since CRM is a vital part of building a relationship with your existing and future customers, it's a great way of reducing manual processes for your business. By implementing this type of system, you will be able to remove the human error aspect when it comes to your data.
Not only will there be lesser chances of errors, but you will also receive detailed reports of analytics that's organised and stored efficiently, thus freeing up your staff to focus on guests. This will help you not just to streamline processes but enable more walk-ins and inside sales effortlessly. 
#3: Forecasting and inventory management 
The success of your business depends largely on how well you can manage your resources. Manual tracking is not just tedious but could lead to errors. With a forecasting and inventory management tool, you can view sales and inventory data from multiple locations to have a simple yet deep and accurate way to manage the stock of your inventory products. 
No 4: Queue management
Line management and queuing solutions have long been the object of research for theme park owners and operators who are looking for ways to improve guest experience. An efficient queue management technology provides guests with an optimized itinerary that ensures they get to take all the rides they want, shortens wait times, and provides them with significantly improved experiences.
No 5: Digital waiver solution
The pandemic has pushed all entertainment venues to shift to technologies that help reduce contact between staff and visitors. Waiver management is no exception. Signing waivers online helps reduce risk with staff, helps you go paperless and also avoid unnecessary hassles with paperwork. 
Related: Want to Automate Membership Subscriptions? Now Possible with Tixera!
Unlocking the Potential of Automation at your Theme Park
Tixera's amusement park POS system offers comprehensive solutions to automate manual tasks while enhancing your guest experiences and helping grow your revenues. 
Do you see the advantages of having an integrated system at your amusement park like Tixera? Then reach out to a Semnox representative right away to take things to the next level! You can also drop an email at sales@semnox.com or call us.