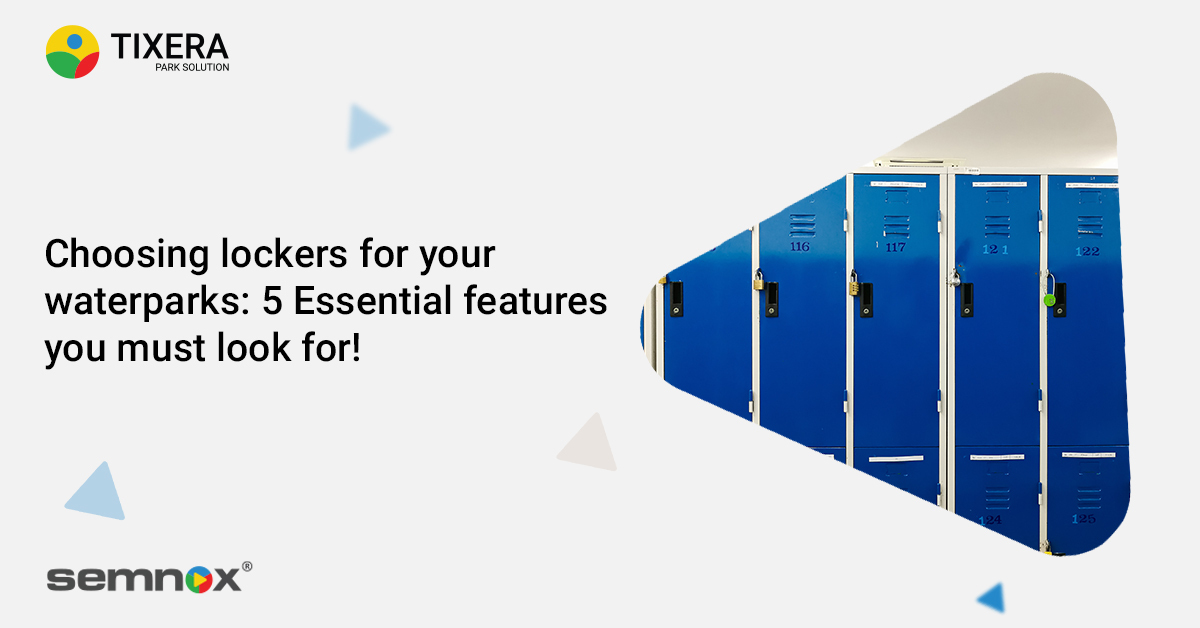 Choosing Water Park Lockers: 5 Essential features you must look for!
Choosing water park Lockers: 5 Essential features you must look for!
With the world going cashless, it only makes sense that the lockers at your waterparks are also upgraded to the latest technology. Provide your guests with peace of mind, with lockers that ensure safety and are well-constructed with durable materials. Here are some new features to consider while choosing water park lockers that suit the demands of your facility.  Let's take a look.
Essential Features of Water Park Lockers
Integrated & Centralized Control 
Integrated water park lockers allows the same tag as the ticket to be used as a locker key. Operations can see the lockers issued or vacant or manage them remotely from the POS. 
A centralized locker means that guests can monitor the battery and lock status of their RFID lockers and feel an increased sense of security and control of their belongings. 
Enhanced Security
Water park lockers are situated over a wide area within the park which makes monitoring difficult. One of the most common complaints or fears guests can have is lost keys/cards. Enforcing an RFID or QR-powered keyless/cardless locker system removes this hazard as your guests can access it with the RFID chip or QR code embedded in their wristbands. 
Additionally, there's no need to have staff handle your lockers and since the RFID keys can't be duplicated, guests can have fearless fun knowing that their belongings are safe!
Related: 3 Reasons to Switch to Electronic RFID Lockers at Your Water Park
Dependability
With an increased emphasis on contactless payments, using an RFID-enabled locker means the guests can use their RFID bands or cards for cashless payments all across the venue. They can use it for the rental of their lockers so they can move around freely.
Water-Resistant
Because they're located outdoors, lockers are subjected to moisture and high temperatures that could damage or affect their operation. Upgrade to rust-free locker materials so you'll have a quality product that stands the test of time. 
Customizability 
Install lockers with different sizes, colors, and materials to provide your brand with the visibility it deserves, and make sure your guests have something to talk about when they go back home! 
If you're looking to upgrade your water park lockers with the best electronic locker system features, then choose Tixera from Semnox Solutions.
Overview
Tixera's lockers are capable of reading RFID, Barcode, or Qr codes. They can be available wired and battery-operated. Our electronic lockers are integrated into the core Tixera ecosystem which also includes a point-of-sale solution, Access Management, Cashless, self-service kiosks, digital signage, inventory management, and much more!
The payment and allotment of lockers can be done at the same Tixera Point of Sale, so you can avoid the need to switch systems. Tixera's lockers also have options available for wired or battery-operated locks.
Make sure your guest convenience is at the forefront from entry to exit with a solution that's reliable and maximizes your location revenue. Upgrade to Tixera today and reach out to our representatives by email at sales@semnox.com or call us today!