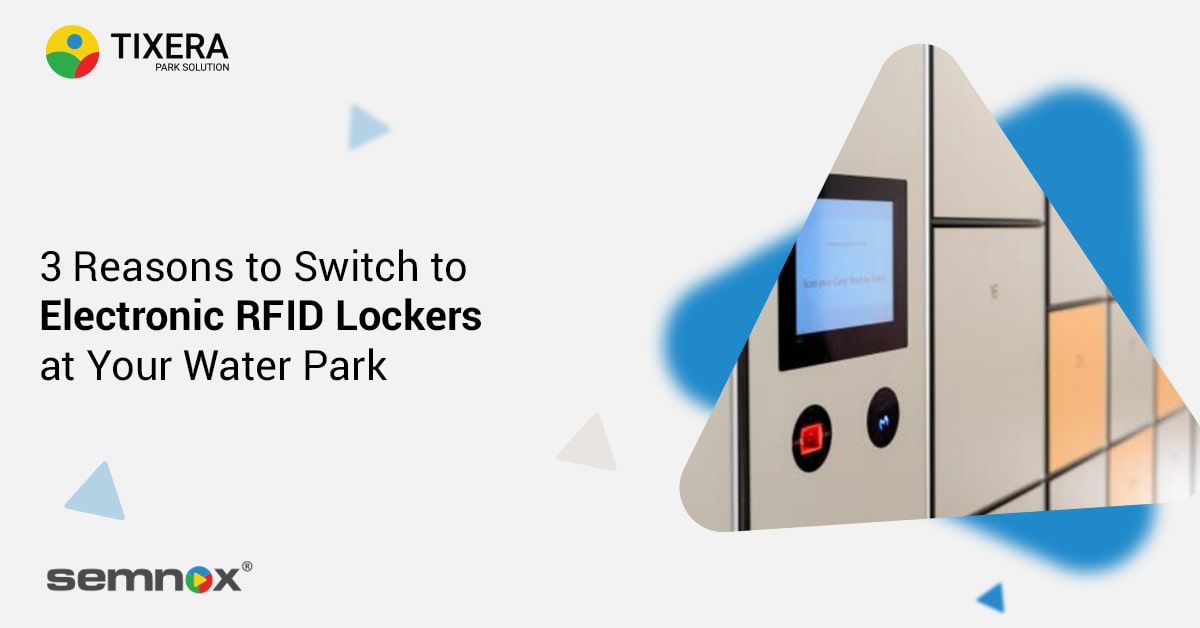 3 Reasons to Switch to Electronic RFID Lockers at Your Water Park
3 Reasons to Switch to Electronic RFID Lockers at Your Water Park
As with all aspects of water park management, the lockers where guests store away their belongings are also witnessing a transformation fueled by technology. Gone are the days when guests would have to use a physical key — these days, secure RFID lockers with electronic keys are the way to go!
Electronic water park lockers are paired with RFID keys embedded in bands that guests can wear securely around their wrists. They can now have a hands-free experience while having a good time at your water park!
In this blog, we'll look at the top 3 reasons to switch to electronic RFID lockers at your water park. Let's dive in!
1: More Convenience & Security for Guests
When your guest arrives at the venue, they can purchase an RFID wristband at the POS counter or at a self-service kiosk. This wristband itself will serve as the key for their locker and you don't need to deploy additional staff to handle the lockers. The RFID keys cannot be duplicated and therefore, the guests can have peace of mind knowing that their belongings are truly safe!
2: RFID Keys Can Also Be Used for Cashless Payments
While you can prevent crowding at a particular attraction by creating time slot-based access, you can also use the system to create a capacity. The same RFID band that guests use to lock their items away can also be loaded with credits or money for cashless payments at all touchpoints across the venue. A single RFID band can be used to access rides, as well as to purchase food and beverage items. Even the rental for the lockers can be deducted from the RFID wristbands. This way, your guests can move around freely and not be limited in any way!
3: Create a Holistic Experience for Guests
You can also offer your guests a package deal — by combining locker rentals with food, beverage, and merchandise — to give your guests maximum value for money! The locker cabinets are available in various sizes, colors, and materials, allowing you to customize based on your brand. You also get centralized control and real-time monitoring of the battery and lock status of the RFID lockers, further ensuring the security of your guest's belongings.
Different Types of Electronic Locking Systems
Electronic locking systems need not be RFID-based. They can also be based on QR codes and barcodes. Instead of an RFID chip, the guest's wristband will have a QR code or barcode printed on it.
Additionally, you can choose between wired locks or battery-operated locks. In either case, the lockers will not have any visible wires and will look neat and presentable in the locker room.
Are you looking to upgrade your water park lockers? Do you want your park to have the best electronic locker systems available? Then choose Semnox's Tixera! We offer water park lockers with all of the features highlighted above.
Our RFID lockers are integrated into the core Tixera ecosystem — which includes a point-of-sale solution, OTA-integrated online ticketing, RFID solutions, a comprehensive CRM module, self-service kiosks, inventory management, an independent maintenance module, digital signage, annual and season pass management, and much more!
Tixera is trusted by 200+ outdoor amusement venues across 20+ countries — including water parks, theme parks, zoos, aquariums, and attractions. The Tixera suite is backed by our 24×7 Global Support Center and our R&D team is constantly working to ensure that you are at the cutting edge of technology at your venue!
Create a seamless and unforgettable experience for your guests from entry to exit with our all-in-one solution — upgrade to Tixera today! Reach out to our representatives by email at sales@semnox.com or call us today!