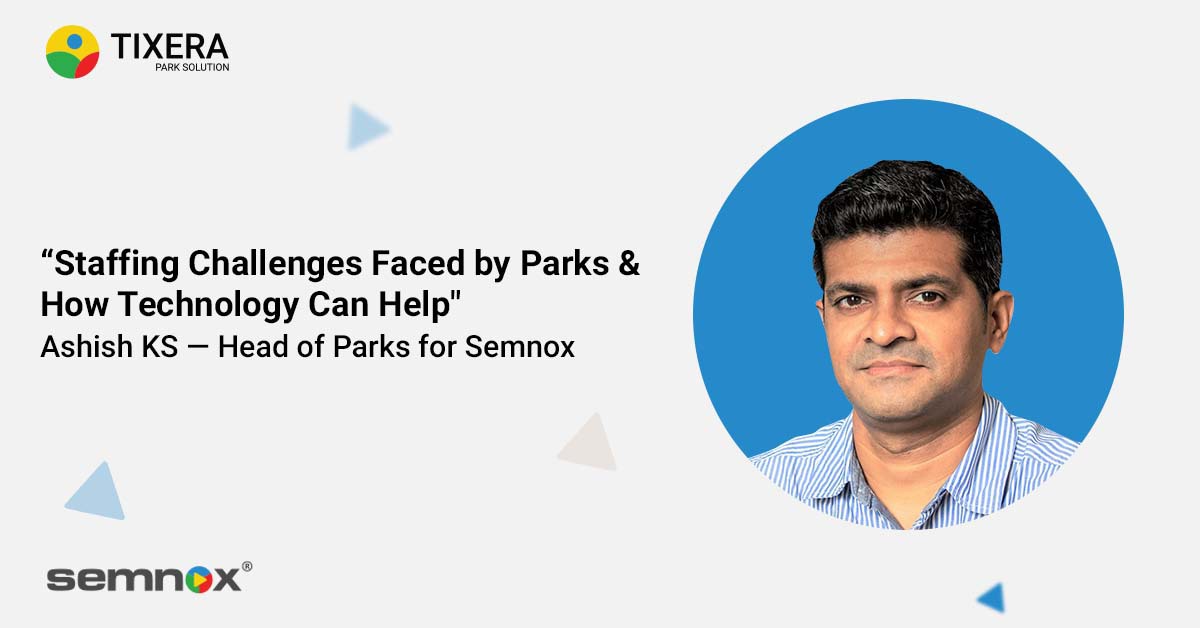 Ashish KS — Head of Parks for Semnox — Shares His Thoughts on Staff Management Challenges Faced by Parks & How Technology Can Help
Ashish KS — Head of Parks for Semnox — Shares His Thoughts on Staff Management Challenges Faced by Parks & How Technology Can Help
Staff management can be a challenging task for amusement venue operators due to the nature of the industry. But modern technology can reduce the difficulty of the process to a great extent. We asked Ashish KS — Head of the Parks Division for Semnox — to share his thoughts on the role that technology plays in this crucial area of park operations.
Q: Is the investment in technology worth it as compared to just investing in more staff?
Before I answer that, let me state very clearly that technology cannot replace the human touch. Guests love a warm smile and a word of welcome when they are at their venue.
But what technology helps you do is use the staff management effectively, automate the recurring tasks that do not need any intelligence, save time of staff by showing information readily accessible and by planning ahead of time.
Most people think of technology as an investment, but it will most definitely save you costs in the long run. On one hand, you get to automate manual tasks. And on the other, you also reduce human error.
Apart from the obvious benefits, you also have in-direct benefits as the staff is more happier, the guest experience is better and they tend to spend more. These are things that cannot be exactly measured but you can definitely feel it and understand it from people who have invested in technology.
So without a doubt, technology can help you scale quickly, reduce your overheads, and boost your profit margins. 
Q: How can operators handle peak hours without increasing staff presence?
That's a good question. The most obvious solution is to deploy self-service technologies like kiosks across the venue so that guests can recharge their wristbands by themselves. Online ticketing, digital lockers, and automated access control with turnstiles also help reduce the need for staff.
Digital signage can also be placed across the venue to simplify wayfinding, sharin important information and guidance for guests.
On the operational side, more streamlined management can help operators manage their venue easily without hiring more staff for the same. A mobile dashboard app like Tixera BizInsights can give operators all the essential information they need at their fingertips.
Centralized inventory management and a comprehensive Customer Relationship Management module can also further reduce the need for staff. 
There are some cutting-edge solutions that are coming up as well. Queue management or virtual queuing is one of them. Guests won't have to line up in front of a ride or attraction waiting for their turn anymore — they get an itinerary for their day at your venue and a notification on their phone when it's their turn on a particular ride or attraction. This prevents overcrowding and also eliminates the need to deploy staff to manage the crowd.
Q: How can guests be encouraged to use more self-service options?
To be frank, guests dont need motivation today, instead they expect it to be there. We just have to ensure that the experience with kiosks and online ticketing website are easy to use. Their interface needs to be intuitive and guests should be able to make purchases quickly. If their first experience goes great, they are more likely to use the self-service options again. 
Additionally, you can incentivize your guests to use self-service options by creating discounts exclusively for online purchases.
Q: What can operators expect from Semnox's Tixera when it comes to staff planning and management?
Tixera has a comprehensive Staff Management module that gives operators granular control over what the staff can and cannot see within the system. The module includes Attendance, Shift, and Leave Management as well.
Overview
On the whole, Tixera from Semnox Solutions is designed to be a single source of truth with all modules in one so the information seen is real time and uniform in each module. This cuts down the staff training and onboarding time and the cost of maintaining and supporting multiple systems.
Additionally, the 360 visibility that operators have allows them to easily move staff around to rides and attractions that most need attention. All these factors work together to bring down staff management costs and they simplify day-to-day work for your staff as well! 
---
Are you looking to reduce the burden on your staff management while also streamlining your operations with self-service technologies? Then reach out to a Tixera representative today — email us at sales@semnox.com or call us!