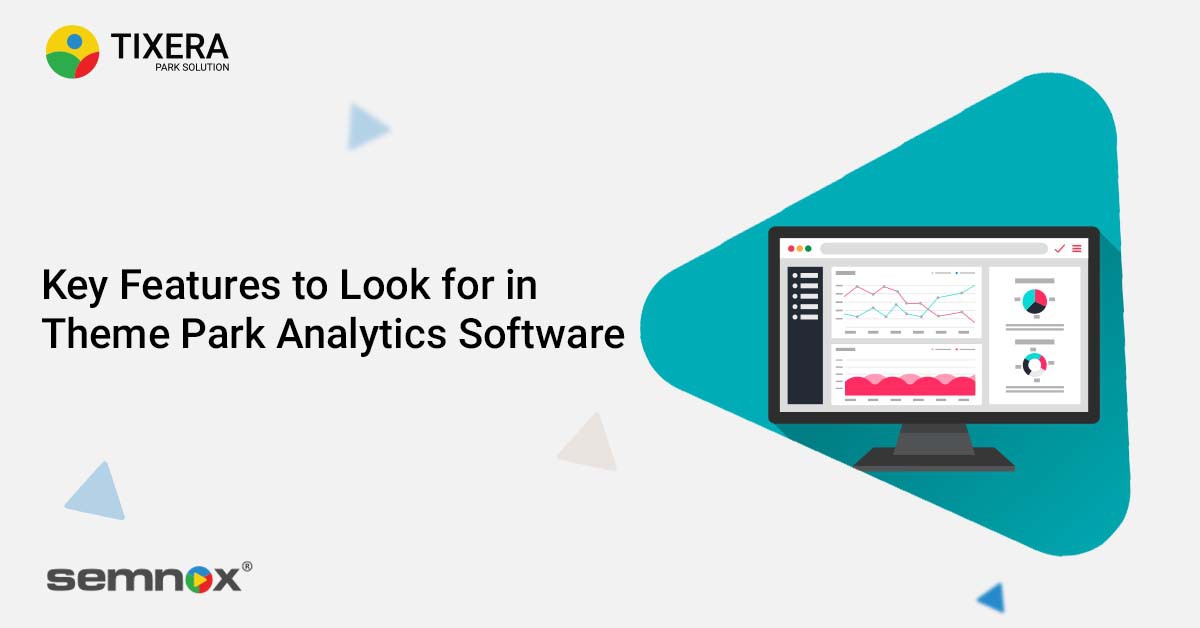 5 Key Features to Look for in Theme Park Analytics Software
5 Key Features to Look for in Theme Park Analytics Software
With the increasing digitization of theme park operations, there's a lot of data coming in from every corner of your venue. This data is the most precious resource that your park has — leveraging it in the right way can help you understand your guest's preferences and craft experiences that they love! 
An effective theme park analytics software is crucial here — it can help convert unorganized data into actionable insights. But these softwares are relatively new in the market and it is not easy to identify which software best suits your needs.
This blog will help you make an informed decision — covering the 5 key features that constitute the best theme park analytics software. Let's take a quick look:
Key Features in a Theme Park Analytics Software
Visualized Data (instead of numbers and statistics)
The human brain processes visual inputs 60,000 times faster than text. When your data is presented to you as text and numbers, it The human brain processes visual inputs 60,000 times faster than text.
When your data is presented to you as text and numbers, it will take you forever to make sense of the data. But if the same data is presented using rich data visualizations — pie charts, bar graphs, trend lines, etc. — you will be able to grasp the information quickly and as a result, make critical decisions in time.
Mobile Analytics (for management on the go)
With most of us spending more time on our phones than on laptops and desktops, it makes sense to have a mobile app for theme park analytics software.
So if you are looking for a software solution, make sure that it comes with a companion mobile app. The app won't necessarily have all the information that would be available to you on a desktop or laptop, but it should give you all the key metrics at your fingertips.
Near-Real-Time Updates (to help you stay on top)
Whether you are checking your theme park reports on a laptop, desktop, or smartphone, you need to get near-real-time updates.
If the data gets updated after hours or days, it might be too late! Real-time updates allow you to make time-critical decisions — moving your staff around to serve guests where needed, ensuring your kitchen is prepared for a busy day, tracking maintenance and repair work to get rides back online as soon as possible, and much more!
Related: Make Your Facility Stand Out Over Industry Competitors
Actionable Insights (and not just a ton of data)
Next, we have the most important feature to look for — actionable insights. It's one thing to have a lot of data presented to you.
But the deciding factor should always be — how useful is this data? Can it help me improve the guest experience or park operations? Does it give me insights into the popularity of rides and attractions, the food and beverage items preferred by guests, and guest behavior in general — can help you create personalized offers in your marketing campaigns, giving your guests exactly what they are looking for!
Custom Dashboards (to meet your specific needs)
Finally, you can also enquire with your vendor if they provide any custom dashboard that you might require. Theme park analytics software solutions are built to meet the general needs of the industry, but you might have specific requirements that might not be built-in. 
Related: How Automation Can Help Gain a Commercial Advantage
Are you looking for a theme park analytics software solution that has all of the above features and more? Tixera from Semnox Solutions is your best bet! 
You can now get actionable insights into ride trends, sales, operations, maintenance, and more — on all your devices in real-time!
Our Reporting and Mobile Dashboard modules are part of the Tixera amusement park management system that is trusted by 200+ venues across 50+ countries. 

Transform your theme park or amusement venue with Tixera today! Reach out to our representatives to schedule a free demo — email us at sales@semnox.com or call us!