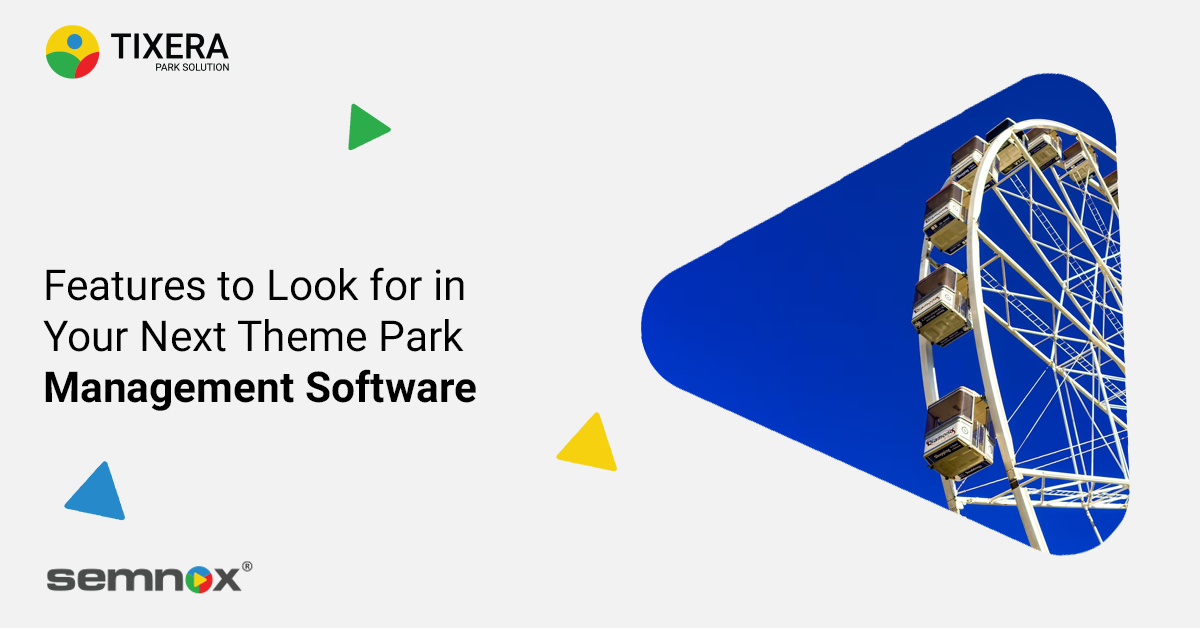 Features to Look for in Your Next Theme Park Management Software
Features to Look for in Your Next Theme Park Management Software
As the season for theme parks, waterparks and special attractions nears, we become increasingly aware of everything around the venue that needs repair or updating. With the increase in foot traffic during the summer rush comes the need for efficient and reliable management systems at your facility. Is your system up for the task? This is where theme park management software comes in.
Theme Park management software is designed to help theme park owners and managers automate their operations and streamline their processes, from ticketing to inventory management and many things in between. Here's a list of key features to look for in your theme park software:
Ticketing System
POS System
Inventory Management
Analytics and Reporting
Mobile App Integration
CRM Integration
Tixera Park Solutions for your Theme Park
Semnox Solutions offer a fully customizable suite of solutions to fit all your theme park needs. Tixera Park Solutions aims to help operators run their parks more efficiently and effectively, enhancing the visitor experience and generating revenue opportunities. Semnox created Tixera for outdoor amusement venues in 2014. Since then, it has expanded to become the complete integrated solution for managing Adventure Parks, Amusement Parks, Water Parks, Aqua Parks, Wave Parks, Zoos, and Aquariums across the world.
Let's discuss these key features of theme park management software in-depth to better understand what this software can do for you and your venue.
Ticketing System
The ticketing system is the core of any theme park management software. A good ticketing system should be easy to use and should allow visitors to purchase tickets online, in person, or through mobile applications. The system should also be able to generate reports on ticket sales, which can help managers make informed decisions about pricing and promotions. Dynamic pricing for your venue is another BIG one.
Our dynamic pricing solutions offer:
AI-based optimization of tickets prices for amusement venues
Automated pricing based on factors like the weather, past bookings, seasons, number of tickets currently sold, etc.
Increase off-season and off-peak-hour ticket sales
More value for money to guests and more revenue for your venue
The possibilities are endless. You can roll out combination offers, allow promotion-based entries, and attach different prices to rides. Keep your guests happy and your business thriving with seasonal promotions and group discounts as well!
POS System
Another essential feature of theme park management software is a Point of Sale (POS) system. A POS system allows staff to process transactions, manage inventory, and track real-time sales data. A good POS system should be user-friendly and support various payment methods, such as credit cards, debit cards, and mobile payments. You can do all of that and more with Tixera.
Amusement Park POS System Features:
Compatible with standard PCs and touch screens
Colors, textures, and sizes of buttons can be customized easily.
Displays messages for cashiers based on customer behavior.
Easy to use, requiring minimal training for cashiers.
Records employee sales summary
Integrates with cash drawers, receipt printers, pole displays, card readers, barcode readers, and QR code readers.
Integrates with credit cards across leading economies.
Integrated shift-based login and HR controls for enhanced efficiency
24×7 support is available in multiple languages.
Enables split payments, merging tables, & order sharing
The process of checking in and out is fast.
Navigation across screens is intuitive and easy.
Improved touch targets for faster operations
Inventory Management
Theme parks have a lot of moving parts, from food and beverage to merchandise. An effective theme park management software should have an inventory management system that helps managers keep track of their stock levels, reorder supplies, and manage their vendors. The inventory management system should also be able to generate reports on sales, stock levels, and supply costs.
Tixera Retail and Merchandise Management:
Track and maintain merchandise inventory
Supports the exchange of accumulated loyalty points for merchandise
Define multiple inventory locations and track stock movement
Combine retail & merchandise sales with ticket sales; create combos
Purchase and receive functionality; inventory counting functionality
Analytics and Reporting for Theme Parks & Amusement Venues
The ability to track and analyze data is critical for making informed decisions. Good theme park management software should have analytics and reporting features that allow managers to access real-time data on attendance, revenue, and other key metrics. This feature can help managers identify trends, optimize operations, and improve guest experience. Get everything you need and more to make smart business decisions all from one dashboard. Access things like:
Sales Management Reports
Product Management Reports
Customer Relationship Management Reports
Inventory Management Reports
Cash Flow Management Reports
You can even access data anytime, anywhere with our BizInsights app. Make quicker business decisions by accessing visualized data in an easy-to-understand format, right at your fingertips! For more on our analytics dashboard and BizInsights visit our website.
Mobile App Integration
In today's digital age, mobile apps have become essential for enhancing guest experience. A good theme park management software should have a mobile app integration feature that allows visitors to purchase tickets, view wait times, and access maps and other park information. The mobile app should also be customizable, allowing parks to incorporate their branding and messaging.
CRM Integration
Managing customer relationships is critical for any business, and theme parks are no exception. A good theme park management software should have a Customer Relationship Management (CRM) integration feature that allows managers to track guest data, manage feedback, and personalize guest experiences. The CRM integration feature should also be able to generate reports on guest behavior, preferences, and trends. You can also identify and incentivize your loyal customers with specific benefits and membership programs by creating custom annual and season passes!
Tixera 360 CRM Solution features:
Define promotions, both for game plays and products
Activate loyalty programs and use the business rule engine to setup points accumulation
Create tiered membership programs with different discounts at different tiers
Built-in database for marketing via text, email, and social media
Allow redemption of loyalty points through integration with Inventory & Redemptions module
An online portal to view the points balance and expiry
Tixera Park Solutions for your Theme Park Management Software
Theme Park management software plays a crucial role in managing the operations of theme parks. That's why Tixera is your best option for fully integrated theme park management software that offers everything you need from the ticketing system, POS system, and inventory management to analytics and reporting, mobile app integration, and CRM management. By choosing a theme park management software that has these features, managers can automate their operations, optimize their processes, and provide guests with an unforgettable experience. To learn more and set up a customizable demo with one of our representatives, contact us today!