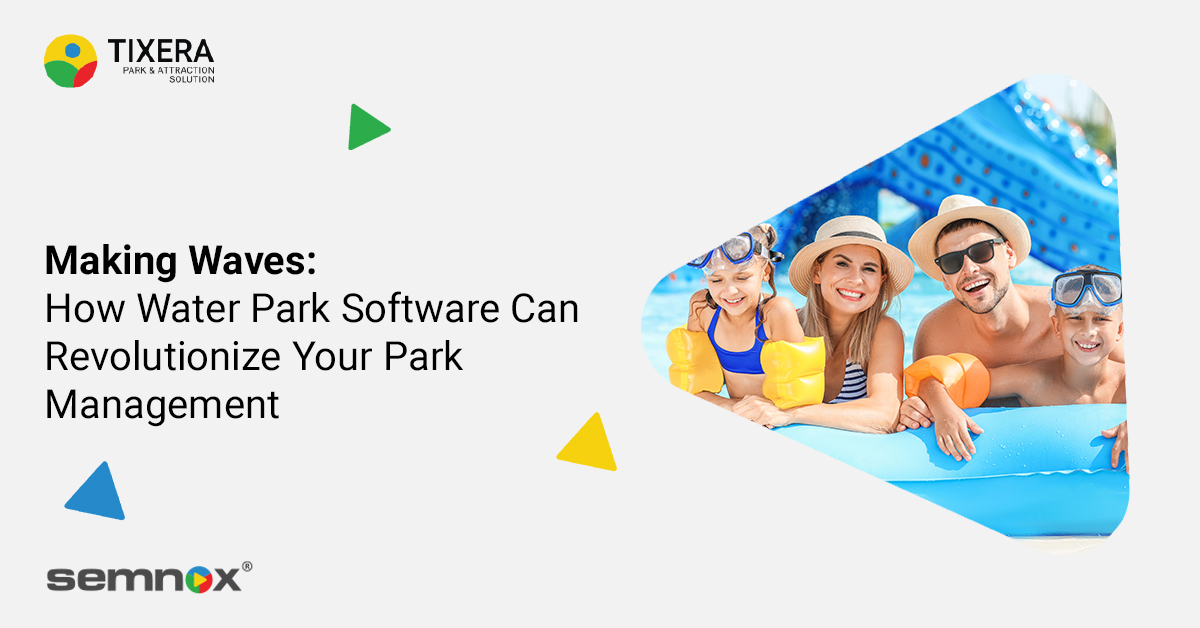 Making Waves: How Water Park Software Can Revolutionize Your Park Management
Making Waves: How Water Park Software Can Revolutionize Your Park Management
Water parks are a great way to beat the summer heat and have a good time with friends and family. Managing a water park, however, can be a daunting task. From ticket sales to inventory management to maintenance, there are a lot of moving parts to keep track of. That's where water park management software comes in. Let's take a closer look at what water park software is and how it can benefit water park owners and operators.
What is water park software?
Water park software is a comprehensive management tool designed specifically for water parks. It helps park owners and managers streamline their operations by automating key processes, such as ticket sales, cashless solutions, inventory management, and more.
The software typically consists of several modules, each designed to address a specific aspect of park management.
For example, the ticketing module allows park visitors to purchase tickets online, while the inventory management module tracks the park's food and beverage inventory. Having the right modules in place can make a world of difference in your day-to-day operations.
Make a Splash with Tixera Water Park Management Software
With a singular water park management software system integrating all operational aspects from ticketing to maintenance, you can transform your water park with one platform. Semnox Solutions created Tixera Park Solutions with you, the operator in mind.
This feature-packed solution can take ticket sales to the next level with integrated sales platforms across multiple online and on-site channels. It can give you a real-time view of the available capacity and manage it with ease. Just ask the managing partner of Dubai Garden Glow, Chancha Samanta:
"Semnox's ticketing system was engineered to equip our ticketing agents and customers with an advanced digital ticketing platform. This has improved our customer satisfaction and reduced the time we spend in our day end reconciliation. We look forward to extending our support with Semnox by implementing cashless solutions combined with the ticketing system for our next events."
Managing ticket sales is only the start of what water park software can do for you. Think BIGGER! Take the sales up a notch with annual passes, upsells, and loyalty programs. Add cashless solutions, self-service kiosks, and integrated locker systems to really give your park that elevated feel. If you've seen it or thought about it, Tixera Park Solutions can deliver it. Learn more about what water park management software can do for you here.
Related: Choosing water park Lockers: 5 Essential features you must look for!
Benefits of water park software
Water park software offers a number of benefits for park owners and managers, including:
Streamlined operations: By automating key processes, water park software helps reduce the workload on park staff, allowing them to focus on providing a better guest experience.
Improved efficiency: With real-time data and analytics, park managers can make more informed decisions about inventory, staffing, and other aspects of park operations.
Enhanced guest experience: With features like online ticketing, mobile ordering, and cashless payments, water park software can help improve the guest experience by reducing wait times and streamlining the purchasing process.
Increased revenue: By optimizing park operations and providing a better guest experience, water park software can help increase revenue for the park by creating more upsell opportunities, and better platforms for guests to make purchases.
Better data management: With all park data centralized in one platform, park managers can more easily track performance and identify areas for improvement.
Other benefits include accessibility, flexibility, and ease of operations.
With the right water park ticketing software, you can effectively gauge what your customers do, what they want more of, and how you can deliver it.
"Semnox gives us immense flexibility in terms of offering various packages to our customers, building customer relationships, and managing all our park operations digitally. Their support has been excellent. They're always ahead of the technology and adapt to market demands. We went live with an online purchase module for all 5 places with a great customer response. Customers can add funds online and spend at any park operated by Greenspace," Said Jay Wheatly, Co-owner of Greenspace Leisure.
Other features to look at include a wide range of offerings. Use them all or chose what works best for your venue. With Tixera Park Solutions, you can customize your water park software to fit your needs.
Features of water park software
Water park software typically includes a range of features, such as:
Ticketing: Online ticket sales, season passes, and group sales.
Access Control: water park entry software for guests with a range of access control options from turnstiles to ticket validation products.
Cashless Management: Create contactless experiences for guests with waterproof tags with RFID, barcodes, and QR codes.
Integrated Locker Management: Secure storage spaces for a hands-free guest experience at your park using RFID technology.
Inventory management: Real-time tracking of food and beverage inventory, as well as other park merchandise.
Point of sale: A water park pos system that allows cashless payments, mobile ordering, and integrated credit card processing.
Food and Beverage Sales: Connect food and beverage sales with ticket sales.
Reporting and analytics: Real-time data and analytics to help park managers make more informed decisions.
CRM Solutions: Customer Relationship management involves everything from customer service to data reporting and loyalty management.
Maintenance Modules: Track maintenance activities from task lists to repairs.
Queue Management: Eliminate long wait times at attractions by providing guests with advance itineraries.
Automating key processes for your staff members is a game changer for the guests. It's expected these days. People want a sense of ease and accessibility when visiting theme parks and water parks. Creating a more valuable guest experience should be at the top of your list. Not just for the guest, but for your operations as well.

Luke Knightly, the owner, and director of Knightly's Fun Park will tell you first-hand: "Ever since Semnox Cashless Solution has been implemented, it feels like my life has switched to more digital than manual. There are no worries about managing cash in the operations. Everything runs on the Funpass or Funband as it should and all the reports are just a click away. This system has not only enhanced customer experience at our park but also made the life of our staff more hassle-free."
Choosing the right water park software
When choosing water park software, it's important to look for a solution that meets the specific needs of your park. Look for a software provider with experience in the water park industry, and make sure the software is easy to use and integrates with your existing systems.
Tixera's suite of solutions for outdoor amusement venues and water parks was tailor-made and designed to help you create unforgettable memories for your guests, while also making your business more resilient and your staff more productive. Don't believe us? Just ask our clients!
"My quest for a good cashless system required our solution partners to be innovative so we could stay on top of our competition and that's exactly what I found with Semnox. Having reviewed several park management systems over a period of 3 years, I saw that most of them were stagnant with their product functionality. Semnox was not only able to fit our needs as of today but were also able to demonstrate that their product roadmap would help us achieve our goals in the future." – Billy Ball, Managing Director at The Clacton Pier.
At Semnox Solutions, we offer a comprehensive water park software solution designed specifically for the water park and theme park industry. Our software includes a range of features to help streamline park operations, improve the guest experience, and increase revenue. Contact us today to learn more about how our water park software can benefit your park.