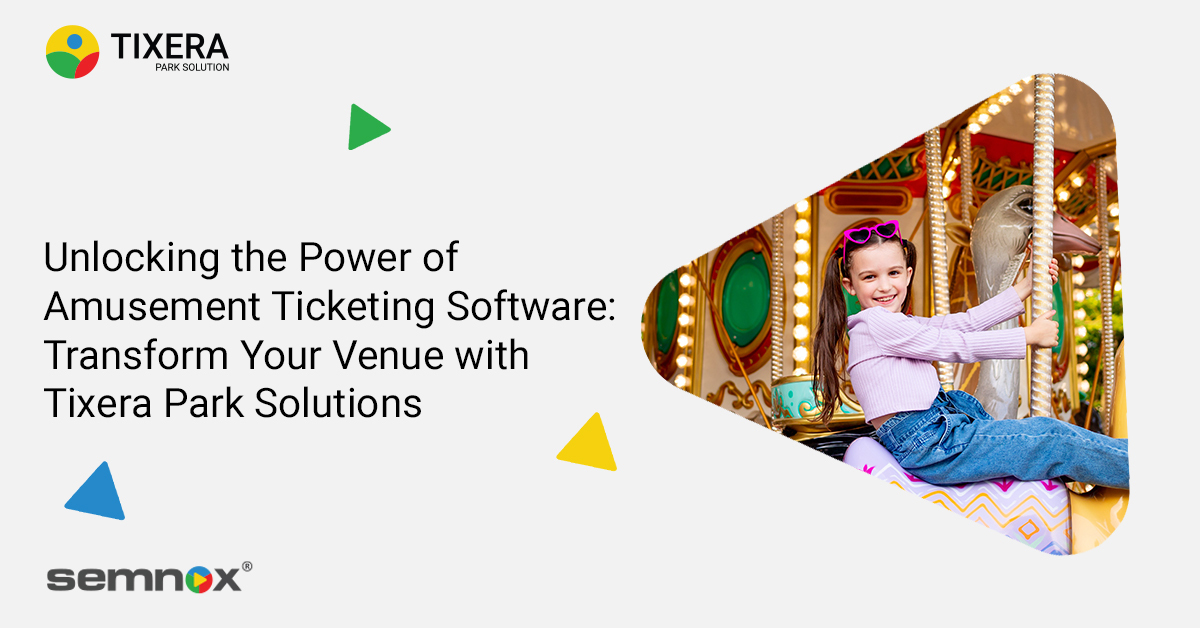 Unlocking the Power of Amusement Ticketing Software: Transform Your Venue with Tixera Park Solutions
Unlocking the Power of Amusement Ticketing Software: Transform Your Venue with Tixera Park Solutions
Amusement parks and entertainment venues have always been hot spots for people seeking thrills, excitement, and memorable experiences. However, behind the scenes, there is a lot that goes into creating that perfect experience for guests. From managing ticket sales, access control, and available venue capacity, it's easy for your park's operations to become overwhelming. That's where Tixera Park Solutions comes into play, offering comprehensive and innovative amusement ticketing software that revolutionizes the way venues operate. In this blog post, we will explore the incredible benefits that Tixera Park Solutions can bring to your venue, taking your business to new heights of success and customer satisfaction.
"From the time we started listing our requirements to the time we finally trained our staff and went live, Team Semnox has been excellent and professional every step of the way. The icing on the cake was the glitchless transition from the old system to the new Semnox system." – Ashwin Dange, business head at GRS Fantasy Park.
Streamlined Ticketing Processes:
One of the primary advantages of Tixera Park Solutions is its ability to streamline ticketing processes. Gone are the days of long queues and frustrated customers. With advanced ticketing software, guests can conveniently purchase tickets online, scan e-tickets or RFID wristbands for quick entry, and even take advantage of self-service kiosks. By simplifying the ticketing process, you enhance the overall guest experience, reducing wait times and ensuring a smooth entry into your venue so the fun can begin.
To learn more about access control integration with ticketing software at your theme park, waterpark, aquarium, or zoo, visit our website.
Flexible Pricing and Promotions:
Amusement ticketing software allows you to effortlessly implement dynamic pricing and promotions. With Tixera Park Solutions you can create customized pricing structures, seasonal offers, group discounts, and more. This level of flexibility, lets you cater to the unique needs of your target audience, optimize revenue, and attract a broader customer base.
Enhanced Guest Experience:
Exceptional guest experiences are the key to success in the entertainment industry. Tixera Park Solutions offers a range of features that elevate the overall guest experience. With cashless payments, visitors can enjoy a seamless and convenient purchasing experience within your venue. Additionally, integration with loyalty programs and personalized recommendations enables you to provide tailored experiences and incentivize repeat visits, fostering customer loyalty.
Tixera's online ticketing system offers another layer of guest convenience enabling them to complete online bookings from any device with minimal clicks while driving revenue with up-sells and cross-sells. It offers a fully branded, intelligent, and powerful online booking solution.
"Semnox has been wonderful to work with. Their customizable platform has brought the flexibility we needed to guarantee client safety without compromising their experience." – Lauren Davis, CEO – Splash Shack.
Real-time Insights and Analytics:
Understanding your business performance is vital for making informed decisions and driving growth. Tixera Park Solutions provides real-time insights and analytics that empower you to monitor key metrics such as attendance, revenue, and customer behavior. By harnessing these actionable data, you can optimize operations, identify trends, and make data-driven decisions to boost profitability. Get key information right at your fingertips with easy-to-understand reports on:
Sales
Products
Customer Relationships
Cash Flow
Inventory
Do you have several locations? Take advantage of cloud-based, patented data roaming solutions that can connect and track your business performance across multiple venues. Learn more here.
Efficient Operations and Inventory Management:
Managing operations and inventory efficiently is crucial for the smooth functioning of any venue. Tixera Park Solutions offers comprehensive tools for inventory management, enabling you to track and optimize the usage of resources, such as ride capacity, food and beverage inventory, and merchandise stock. By automating these processes, you can minimize errors, reduce costs, and improve overall operational efficiency.
Seamless Integration and Scalability:
Tixera Park Solutions is designed to integrate seamlessly with your existing systems and infrastructure. Whether it's integrating with access control gates, CRM software, or third-party applications, the software ensures a smooth transition and hassle-free implementation. Moreover, the solution is scalable, allowing you to expand your operations effortlessly as your venue grows, without worrying about outgrowing your ticketing system.
"Our destination is a mix of indoor, outdoor, and F&B offerings, and it was extremely important for us to have a system that could handle all our needs in one place. Being a single comprehensive system with centralized control, and with our plans for expansion and adapting to more and more cashless and contactless systems, we knew Semnox was our best bet" – Alfred Codonas, owner of Codonas Amusement Park
Amusement ticketing software has become an indispensable tool for modern entertainment venues. Semnox Tixera Park Solutions offers a feature-rich, user-friendly, and scalable solution that transforms the way you manage ticketing, access control, and overall operations. By embracing this cutting-edge technology, you can streamline processes, enhance the guest experience, boost revenue, and stay ahead in the highly competitive amusement industry. Choose Semnox Tixera Park Solutions, and unlock the full potential of your venue, making it an unforgettable destination for thrill-seekers and families alike.