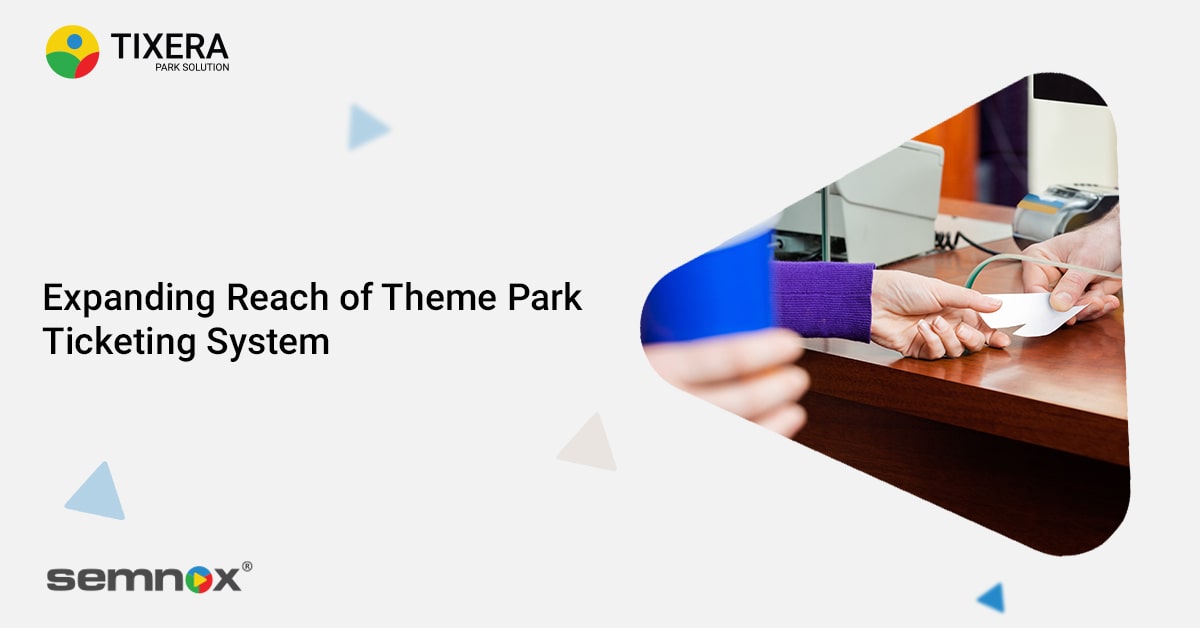 Expanding Reach of Theme Park Ticketing Systems
Expanding Reach of Theme Park Ticketing Systems
In 2011, the engineer and investor Marc Andreessen wrote in the Wall Street Journal that "software is eating the world". He pointed out that the value chain of industries existing in the physical world is being transformed by software. A decade since he wrote those words, they still hold true.
The amusement and leisure industry is very much rooted in the physical world. But parks and amusement venues across the world are embracing technology and transforming the guest experience as a result. It's not easy to keep up with the latest trends in the industry — which is why we have put together this handy guide to 6 trends that you must know about! 
Let's take a look.
6 Theme Park Tech Trends that are re-shaping the guest experience.
1. Dynamic Pricing of Park Tickets to Boost Revenue
This emerging tech trend takes inspiration from the airline industry — just as your flight tickets are dynamically priced based on factors like the weather, past bookings, seasons, number of tickets currently sold, and so on, your amusement park tickets will be too!

Dynamic pricing of theme park ticketing system is done by algorithms that parse through data accumulated at your parks to determine the ideal price of the ticket. This trend is quickly catching on in the amusement industry as it helps increase sales during the off-season as well as during off-peak hours. And while your venue benefits from increased revenue, your guests get the best value for money.
2. Virtual Queueing to Avoid Crowding Near Attractions
Popular attractions and rides often face the problem of overcrowding. This is inconvenient for the guests as well as for the operators, who are forced to deploy staff for crowd control. Queue management or virtual queuing solutions are designed to solve this problem. 
Guests are given an itinerary for their visit to the park based on what rides they actually want to visit. Instead of queueing up at the ride, they get notified on their phone when it's their turn to go on! The additional benefit here is that guests get to make the most of their time at the park visiting all their favorite rides and attractions, spending zero time waiting in line. 
Operators can also customize tickets with accessories and add-ons to go with particular rides. The system also provides insights into which attractions are guest-favorites. In case of ride closure due to maintenance or other reasons, guests can be notified right on their phones. To sum it up, virtual queuing goes a long way in enhancing the guest experience! 
3. Integrated Digital Waiver Management 
Waivers help parks avoid liability and are a legal requirement in many regions. The old approach was to go with pen and paper waivers which are difficult to manage and sort through, apart from also requiring a lot of storage space. Digital waiver management is the modern alternative. 
The digital approach makes the experience of signing and validating waivers quick and seamless. Guests get the option to sign waivers online while making the booking or they can also sign it on a kiosk at the venue. Staff can also get waivers signed at the ticketing counter or on a tablet that can be carried around the venue. 
Staff can verify signed waivers quickly and securely using One Time Passwords and Reservation Codes in keeping with GDPR guidelines. It's also easy to search, view, print, and export digital waivers. 

Electronic waiver software solutions eliminate paperwork, streamline the process of waiver management, create a contactless experience for guests, and leave them with a great impression about your venue!
4. Expanding Reach of Theme Park Ticketing System
Digital theme park ticketing systems have been around for many years now and most modern parks have them on their websites. But in recent years, with the rise of Online Ticketing Aggregators (OTAs) like Viator and Expedia, ticketing has become more complex. Problems arise when guests book tickets on an OTA and operators don't have real-time visibility on bookings. This can lead to overcrowding at the venue as well as double bookings. Integrating the OTA with the park ticketing system offers a way out of this conundrum.
When an OTA is integrated with your theme park ticketing system, the bookings made on it are reflected within your system in real-time. This gives operators clear visibility on the available capacity of the venue at any given time. You can now expand the reach of your amusement park and manage bookings across platforms from one place!
5. One-Tap Cashless RFID Payment Systems
The biggest trend that's taking over the amusement industry across the world is RFID payment systems that enable one-tap cashless transactions across the venue. While it's also possible to achieve this using barcodes and QR codes, RFID technology is most preferred. 
These "smart tickets" come in the form of waterproof wristbands or cards, and allow guests to enter the venue by tapping their band or card on the RFID reader mounted on an access gate.
Once inside the venue, all payments — retail, rental, costumes, restaurant, food kiosks, or merchandise counters — can be made with one tap using the entitlements that are loaded on these smart tickets! RFID lockers can also be deployed at your park, with the wristband or card acting as a key. 
There are several advantages to these smart ticketing systems for theme parks. First and foremost, the ease of making payments encourages guests to spend more, boosting your revenue.
It's also possible to track spending easily, giving operators a clear picture of guests' preferences. Once a card or wristband is issued to a guest, they can effectively use it forever! Finally, these RFID tags are customizable to your brand, increasing its visibility. 
The COVID pandemic has given a huge boost to cashless payment systems, with amusement venues looking to create a contactless experience for their guests.
6. A Variety of Self-Service Technologies
Most of the trends we've covered so far help reduce the need for staff at your amusement venue. But there are a variety of self-service technologies that are being deployed at venues worldwide that are poised to change the guest experience forever! 
The chief among these technologies is self-service kiosks. These kiosks can be deployed at the entrance to the venue so that guests can purchase tickets on their own. Some kiosks are capable of issuing wristbands as well. Kiosks can also be deployed inside the venue so that guests can recharge their tags easily. There are special kiosks available for food ordering as well. 
Another self-service technology that's increasingly popular is a mobile app for theme park guests. These apps offer all the benefits that online ticketing offers, but additionally, they provide operators the opportunity to engage guests effectively with push notifications. 
Just like contactless RFID payments, self-service technologies like kiosks and mobile apps have risen in popularity during the COVID pandemic. And once guests get a taste of how seamless and quick these technologies can be, there is no going back! 
Zooming Out to See the Bigger Picture
When we zoom out and look at these trends from a distance, there are two broad themes that emerge. The first is the trend towards digitization and automation of all aspects of the amusement experience. The goal is to keep the focus on fun — no wait times, no paperwork, no queues. 
The second trend is less obvious but more powerful — the possibility of creating more personalized experiences by leveraging data. With digitization, operators can accumulate a lot of data on guest behavior and preferences over time. Using the right analytical tools, actionable insights can be garnered from the data, allowing operators to send out tailor-made offers to guests. 
As more data is gathered, more insights can be gained. So it's safe to say that the best experiences in the amusement industry are yet to come!
The Future-Ready Amusement Park Management Software
If software is eating the world of amusement venues and theme parks, then the Tixera's amusement park management software is the solution to look out for! Deployed at 200+ theme parks, water parks, attractions, and amusement venues worldwide, Tixera is designed with the future of the industry in mind. 
This holistic solution from Semnox allows you to leverage all the 6 trends mentioned in this article and many more! With several major and minor enhancements launched every quarter, the Tixera R&D team is always striving to ensure that you have a competitive edge in the industry. 
Want to learn more about Tixera? Then reach out to our representatives to schedule a free demo today — email us at sales@semnox.com or call us!