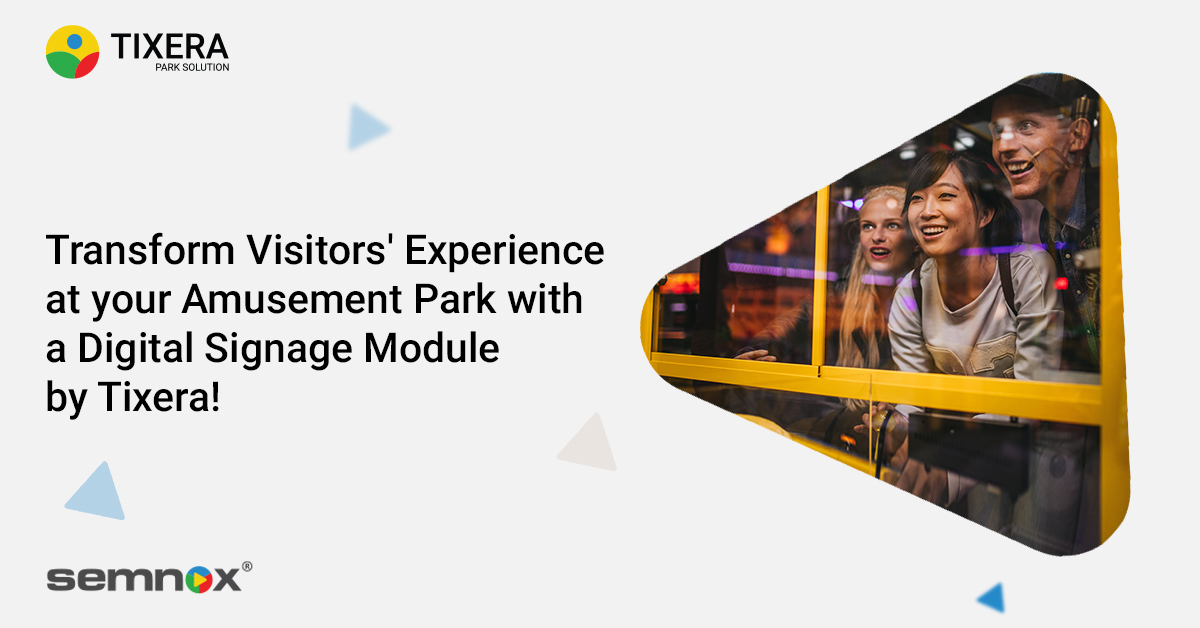 Transform Visitors' Experience at your Amusement Park with a Digital Signage Module by Tixera!
Transform Visitors' Experience at your Amusement Park with a Digital Signage Module by Tixera!
Amusement parks are increasingly employing the latest technology to create a great guest experience and improve park efficiency. Gone are the days of sticking posters and static menus. Customers are getting used to connecting digitally. 
Digital Signage offers flexibility and adaptability to the parks' theme and displays can be changed with a click of a button across multiple places in the park. What's more, you can create offers, promotions, new messages and communicate to guests across the park from the comfort of your office. The capability of changing your theme, narrating a new story in unison across multiple locations makes Digital Signage a powerful, yet under-utilized tool.  
Here's how Tixera's Digital Signage for Amusement Parks can be used as a great visual communication tool to create an exceptional guest experience and improve your park's efficiency:
Dynamic Food Menu
Now you can attract your customers with appetizing food visuals through digital signages and update the item availability in real-time. 
The menu prices can be picked up dynamically from the system and displayed without someone having to go through them and create new visuals and themes. It gives the venue flexibility to react to the demand without spending effort on ensuring the right communication on signages and digital menus.
Promotions and Offers
Digital Signage can be used to create hype with limited deals and special offers. 
Strategically placed offers near the food or retail stores can be difficult for guests to ignore. The speed at which this can be changed makes the venue very nimble and flexible
Related: Theme Park POS: How to Select the Best Point-of-Sale
Personalization
Deliver advanced guest experience by personalization where you can detect patterns and behaviours in the way guest
We can also personalize the information displayed by taking guest information. For example, if the guests tap the band in the locker room, signage displays the locker location of the guest so they can easily track it. 
Reduce Perceived Wait Times
Most guests tend to overestimate the time they'll be spending in line, which only heightens their impatience leading to crowd problems and line-cutting. 
With Tixera's digital signage solution, you can engage guests while they wait in line with more than just static images. Add visuals of your latest rides and share exciting offers to have something entertaining to look at and create anticipation for what's going to come next!
Easier Navigation
Imagine the frustration your guest feels when they're looking forward to their favourite ride only to wind up in circles as they're unable to reach it. Amusement parks are massive, and navigating can get in the way of all the fun. 
Tixera's digital signage streamlines this process for you by providing helpful visual cues so you can guide your guests not just to the fun rides but also to F&B centres and gift shops. This helps create a more natural traffic flow and reduces safety concerns. A great way to ensure that your guests return to experience the fun again is to make them familiar with the surroundings. 
Save Money on Advertising
Tixera's digital signage is quick and simple to update, making it a lot more convenient and reasonable than paper flyers.
You can set up screens to show different content with content builder usability or even change screens based on the time of the day, saving electricity and eliminating the need to attend to multiple displays across your park physically. 
Since the marketing aspect is taken care of with digital signage, your employees can focus on other essential tasks. 
Generate Additional Revenue with Third-Party Advertising
Sell advertising space to other companies and serve targeted ads to bring in additional revenue. When you partner with other businesses and engage in cross-promotional campaigns, it helps you network with other companies while boosting the ROI of your digital signage network at the same time. 
Reinforce Branding 
One of the major challenges parks face is creating an experience that reflects their brand, because there are many different rides and attractions spread all over. 
Tixera's Digital signage solves this problem by providing visual cues that help in drawing virtual threads even among areas that are far-flung within the park. This helps to reinforce branding, which in turn also helps build customer trust and loyalty.
About Tixera
Tixera is a comprehensive ticketing and amusement park management software that mainly focuses on streamlining operations and simplifying processes to provide a seamless guest experience.  We also offer 24×7 support that is the best in the industry.

Apart from digital signages, Tixera from Semnox Solutions offers solutions for OTA integrations, reservation and ticketing, queue-free options, access controls, lockers and POS. 
If you're looking for a solution to help you streamline your point-of-sale operations along with a whole host of comprehensive features, contact a Tixera representative right away at sales@semnox.com or via phone!